Defense delivers, but offense struggles as Bobcats fall in state semifinals
BLHS

shoots 27.3 percent in 35-31 loss to defending champion Cheney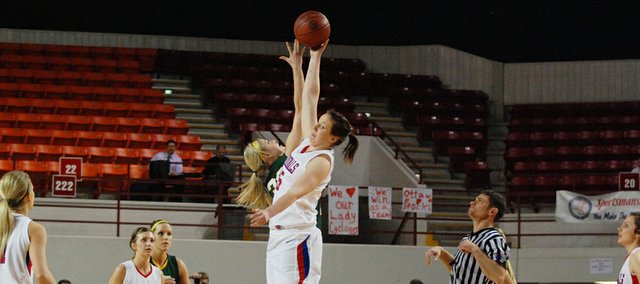 Salina — Basehor-Linwood's defense turned in a second straight masterpiece at the Class 4A state tournament.
Photo Gallery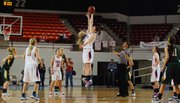 Cheney 35, Basehor-Linwood 31
The Bobcats' offense wasn't as sharp, however, and that proved to be the difference as they lost 35-31 to defending state champion Cheney in the state semifinals Friday at the Bicentennial Center.
"I think these are our two best defensive games (of the season)," BLHS coach Noah Simpson said. "Any time you can play a team like that that went out and scored 60 on Hayden yesterday and hold them to 35, it's going to give you a chance to win. The kids just pride themselves on defense. That's what they really want to go play, and it's awesome. I don't know how much blood I just saw in the locker room, but there's a lot coming from knees and elbows, and I just couldn't be more proud to coach this group of kids."
Basehor-Linwood held Cheney to 36.4 percent shooting, swiped nine steals and forced 15 turnovers. Meanwhile, the Bobcats turned the ball over just eight times and dictated the pace of the game from start to finish.
The Bobcats did everything right except make shots. They were a frigid 27.3 percent from the field.
"That's a very good team, and we kind of knew that going in," Cheney coach Rod Scheer said of Basehor-Linwood. "But like I told (the team), 'It doesn't matter how we played; we won. We scored more points than them, and that's all that matters in the end.'
"I'm not going to make excuses for how we played. (The Bobcats) played a great game."
Basehor-Linwood deployed all sorts of defensive looks, from man-to-man, to a match-up zone and a triangle-and-two.
The zone had been so effective Thursday against Colby that it was clear Cheney was expecting it at the start of the game. The Bobcats came out in man-to-man, however, and the Cardinals' guards seemed surprised.
Still, there was no panic from the Cardinals. They adjusted accordingly and found ways to get the ball to 6-foot-3 forward Merissa Quick for an early free throw and a layup for a 3-0 lead. BLHS answered with two free throws from Megan Bergstrom. Moments later, Macyn Sanders drained an 18-footer that gave the Bobcats their first lead. Cheney regained the lead with a 7-2 run, but a 3-pointer by Jamie Johnson late in the quarter pulled the Bobcats within 10-9.
Both teams were cold from the field in the second quarter, but the Bobcats led most of the way. A 10-foot jumper by Bergstrom gave BLHS an 11-10 lead. The teams then traded quick baskets before a 3-pointer by Courtney Poe off of a Johnson screen gave the Bobcats a 16-14 lead.
Cheney turned the ball over on four of its final five possessions of the half. The one good possession resulted in a jump shot from Kylie Patterson that sent the game into halftime tied at 16-16.
Basehor-Linwood had just four first-half turnovers but was 6-for-20 from the field. Meanwhile, Cheney had nine miscues but was 7-for-15 from the field. Quick made all three of her shots.
Basehor-Linwood went nearly five minutes without a field goal to start the third quarter, but the Bobcats continued to play such good defense that Shelby Equels' layup with 3:18 left in the quarter brought them within three. That came right after Quick had scored back-to-back baskets on put-backs.
A three-point play by Bergstrom with two minutes left in the quarter tied the score at 22-22.
The Cardinals reclaimed a one-point lead at 25-24 entering the fourth quarter.
Patterson knocked down two free throws for Cheney early in the fourth quarter, but a 3-pointer by Poe with 6:02 to go evened the score at 27-27.
The Cardinals countered with a trey by Jacie Scheer that gave Cheney the lead for good at 30-27.
The Bobcats made just 2 of 11 shots down the stretch and missed two free throws. Still, it was a one-possession game until Allyssa Nikkel's free throw with 48 seconds left gave Cheney a 35-31 lead.
Quick led Cheney with 12 points, 15 rebounds and three blocked shots. The Cardinals (25-0) advanced to the state finals for the third straight season.
Basehor-Linwood was led by Bergstrom's 14 points and eight rebounds. Johnson and Sanders scored 6 apiece, Poe had 3 and Equels added 2.
The Bobcats (19-5) will play in the third-place game at noon Saturday against the loser of the other semifinal that pits Holton (24-0) against Ottawa (20-4).