BOBCATS
FINISH
THIRD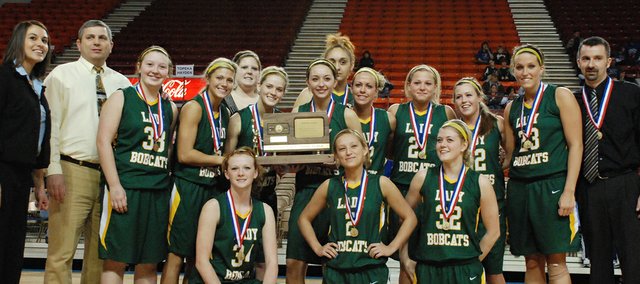 Salina — It took the Basehor-Linwood girls a little bit longer than they'd expected to move past Friday's four-point loss in the state semifinals — 10 1/2 minutes to be exact.
Photo Gallery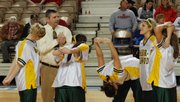 Basehor-Linwood girls 47, Ottawa 36
By then, the Bobcats were buried in a nine-point hole in the third-place game against Ottawa.
After a timeout, however, they regrouped and returned to the court with a vengeance.
Less than two minutes later they had the lead, and they went on to claim a 47-36 victory Saturday at the Bicentennial Center.
Basehor-Linwood closed out a 20-5 season with the first state tournament trophy for girls basketball since Basehor and Linwood high schools consolidated in 1988.
The Bobcats were a step slow on defense during the first quarter and they knocked down just one shot while falling behind 10-2. After a brief rally, Ottawa heated up again and stretched its lead to 17-8 with 5:36 left in the second quarter.
That's when the Cyclones called a timeout. The Bobcats used it to their advantage.
They switched to a diamond and one defense and locked down on Ottawa standout Jordan Baldwin. They also started making shots — lots of them.
Macyn Sanders slashed to the basket for a layup. She added a pair of free throws a minute later. Then Megan Bergstrom buried a 3-pointer from the top of the key and pulled BLHS within 17-15.
Ottawa called another timeout, but it didn't matter. Fresh out of the timeout, Bergstrom scored, drew a foul and sank a free throw. The next time down the court she buried another trey from the top of the key. That capped a 13-0 run and Basehor-Linwood took a 23-22 lead into the locker room at halftime.
"I thought once we switched to the diamond and one we kind of shut down their shooter a little bit, kind of shut down what they were doing, got a few steals," BLHS coach Noah Simpson said. "Then we started feeling pretty good about ourselves and went on a pretty big run. I remember getting the one-point lead there in the second (quarter), and I looked at (assistant) coach (Bruce Courtney) and said, 'We've got this.' I just felt like once we got the lead we were going to be OK."
Ottawa took a 26-23 lead early in the third quarter, but back-to-back 3-pointers from the top of the key by Courtney Poe put the Bobcats ahead for good.
BLHS led 34-28 entering the fourth quarter. A Bergstrom layup and another Poe trey pushed the lead to double figures early in the fourth quarter before the Bobcats cruised to the finish.
Bergstrom finished with a game-high 17 points, Poe had 15, Sanders scored 10 and Jamie Johnson added 5 for the Bobcats.
Baldwin led Ottawa with 16 points. No other Cyclones scored in double figures.
NOTES
— Basehor-Linwood has been to state three of the past four years (2008, 2010, 2011) but didn't win a game either of the first two trips.
— The victory capped the careers of BLHS seniors Shelby Equels, Amanda O'Bryan, Megan Bergstrom, Courtney Poe and Macyn Sanders.