Boomeroos cloaks dogs in team spirit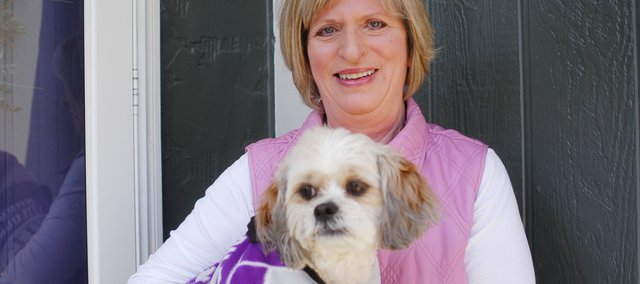 A few years retired from her job as an elementary school principal, Barbara McPherson was working part-time for Baker University supervising teachers training to become administrators.
She was looking for something else to add to her schedule, but she didn't want to sacrifice her flexible schedule or spend a lot of cash on overhead. About a year ago, McPherson's epiphany came while walking her shih tzu, Boomer, down her west Shawnee street.
"All of a sudden it just hit me," she said. "I told my neighbor next door, 'I'm going to make KU and K-State doggie jackets, and I'm going to call it Boomeroos!'"
Now, in time for NCAA March Madness, McPherson's homegrown business is up and running. She sells her made-to-order, custom-fit fuzzy fleece doggy jackets online at boomeroos.com.
The name was inspired by McPherson's dog Boomer, who she adopted after he was rescued from a puppy mill, and Fruit of the Loom's fun children's character undies, Underoos.
She makes doggie jackets in Kansas University, Kansas State University, Iowa State University, University of Missouri and neutral paw-print emblazoned fleece. She recently expanded her offerings to include baby blankets, sleep sacks and carseat covers, which she calls Baby Boomeroos. All can be monogrammed.
McPherson hit several obstacles before transitioning Boomeroos from vision to reality.
For starters, she couldn't sew.
Enter Lenexa's Missouri Sewing Co., where McPherson bought her sewing machine and an embroidery machine, and got instructions.
On a recent afternoon, Boomer milled around McPherson's feel as she pulled some of her first-attempts from a bag full of rejected Boomeroos. Boomer — who is supposed to be a die-hard K-State fan like his owner — promptly curled up on a rough-edged, mismatched KU fleece she tossed on the floor.
Fortunately, McPherson also met Missouri Sewing Co. store manager Bethany Howe, an avid seamstress and dog lover who wanted some sewing project to take home after hours. Howe and her daughter now work for McPherson sewing Boomeroos.
"I've been sewing since I was 12," Howe said. "So I helped her with her product development, but she had all the ideas and jumped through all the hoops."
Getting collegiate licensing for all those schools was one of McPherson's biggest hoops.
Her first approval took a nearly 40-page application and four months of waiting. She's now licensed for KU, K-State and ISU, with Mizzou in the works.
She pre-made a handful of Boomeroos, which are on sale at Sportswear Etc., 8018 W. 151st St., Overland Park. She's making more to take to the Great KC Pet Expo, April 16 and 17 at the Overland Park International Trade Center, 6800 W. 115th Street, Suite 500, Overland Park.
McPherson would love to see Boomeroos get big enough that she could obtain licensing from any school and sell her fuzzy wares in larger retail stores.
In the meantime, she's working on challenges including how to make pre-made jackets fit better, for those dog owners who want to buy one off the rack instead of sending in their dog's measurements and waiting for a custom-made coat.
"We're constantly in design-mode," she said.
McPherson spent 12 years as principal of Stony Point North Elementary School in Kansas City, Kan.
Too busy for a pet then, she got Boomer in 2009, several years after she retired. He had spent his entire four-year life in a puppy mill.
McPherson said he was extremely shy, not potty trained, didn't know what treats were, didn't respond to being called by a name and didn't know how to go up or down stairs. It took a lot of TLC, McPherson said, but Boomer now lives like a normal house dog.
Plus, she said, he and her other dog, Remmy, make excellent models for Boomeroos.