All-Wyandotte County Wrestling Team includes four from Bonner Springs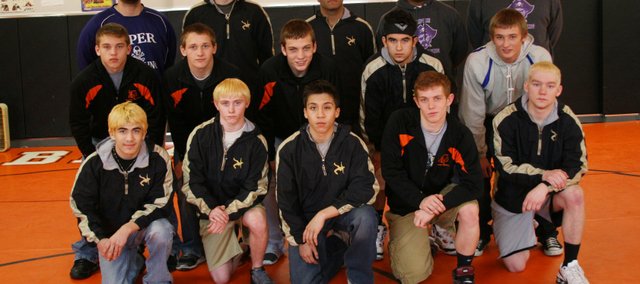 The All-Wyandotte County Wrestling Team was announced last week, and the Bonner Springs Braves were heavily represented.
Four members of the Braves' fifth-place team at the Class 4A state tournament were recognized as the best wrestlers in their weight classes in Wyandotte County.
Senior Caleb Seaton, a state champion at 125 pounds, earned a spot on the team, as did sophomore 135-pounder Jonathan Blackwell, also a state champion. Sophomore Aaron Puckett made the lineup after placing third at state at 140 pounds, and junior 145 pounder Mark Hobson — a fifth-place state medalist — also was recognized.
Caleb Seaton was named as Wyandotte County's Wrestler of the Year. He finished his career as a four-time state medalist.
Other members of the All-County Team were Turner's Tony Arzola, P.J. Cheney, Tyler Freeman, James Lohman, Joe Mohler and Armando Alcantara, Sumner Academy's Jaysson Tansey, and Piper's Caleb King and Airen Maxwell. Piper coach Zach Davies was named as the Coach of the Year.
SEATON A SCHOLAR
In addition to being named Wyandotte County's Wrestler of the Year and winning a state championship this season, Bonner Springs senior Caleb Seaton also has been recognized for his success in the classroom.
Seaton has been named as an honorable mention selection to the Kansas Wrestling Coaches Association's All-Academic Team.