For Bobcats, a feel-good finale
Basehor-Linwood girls finish 3rd at state tourney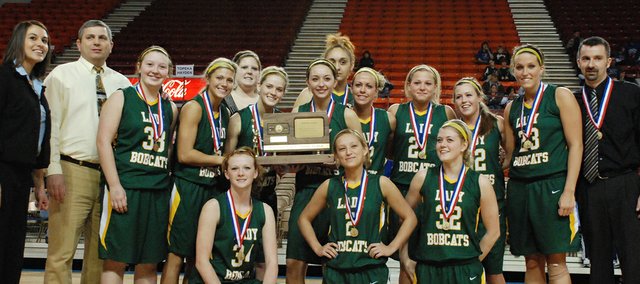 Salina — The frustration from Friday's four-point state semifinal loss lingered on the Basehor-Linwood girls for the first 10 1/2 minutes of the third-place game against Ottawa.
Photo Gallery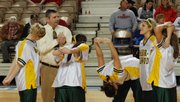 Basehor-Linwood girls 47, Ottawa 36
The Bobcats weren't executing on offense, and they were a step or two slow on defense.
Trailing by nine points, they were in danger of ending their season with two straight losses.
During an Ottawa timeout, however, the Bobcats decided they weren't going out like that. They wanted that third-place trophy … demanded it, really.
Basehor-Linwood returned to the court with fury on both ends of the floor. The Bobcats guarded aggressively, attacked the basket, sank open shots and stormed back for a 47-36 season-ending victory Saturday at the Bicentennial Center.
Basehor-Linwood closed out a 20-5 season with the first state tournament trophy for girls basketball since Basehor and Linwood high schools consolidated in 1988.
"It's exciting for us because we've made history. This is the first girls basketball team to go this far," senior Megan Bergstrom said. "We didn't get our ultimate goal, but we still worked hard and played for what we deserved."
The Bobcats has a dreadful first quarter as their offensive woes lingered from the previous day and they lacked intensity on defense. Ottawa exploited it by scoring two quick baskets on a layup by Jordan Baldwin and a lay-in by Hope Armstrong.
Courtney Poe's pull-up jumper with 5:08 left in the quarter gave Basehor-Linwood its only points of the quarter. The Bobcats allowed Ottawa to hit 5 of 9 shots in the quarter, and the Cyclones took a 10-2 lead into the second period.
After a brief rally by BLHS, Ottawa heated up again and stretched its lead to 17-8 with 5:36 left in the second quarter.
That's when the Cyclones called a timeout. The Bobcats used it to their advantage.
They switched to a diamond-and-one defense and locked down on Baldwin. They also started making shots — lots of them.
Macyn Sanders slashed to the basket for a layup. She added a pair of free throws a minute later. Then Bergstrom buried a 3-pointer from the top of the key and pulled BLHS within 17-15.
Ottawa called another timeout, but it didn't matter. Fresh out of the timeout, Bergstrom scored, drew a foul and sank a free throw. The next time down the court she buried another trey from the top of the key. That capped a 13-0 run and Basehor-Linwood took a 23-22 lead into the locker room at halftime.
"I thought once we switched to the diamond-and-one we kind of shut down their shooter a little bit, kind of shut down what they were doing, got a few steals," BLHS coach Noah Simpson said. "Then we started feeling pretty good about ourselves and went on a pretty big run. I remember getting the one-point lead there in the second (quarter), and I looked at (assistant) coach (Bruce Courtney) and said, 'We've got this.' I just felt like once we got the lead we were going to be OK."
Ottawa took a 26-23 lead early in the third quarter, but back-to-back 3-pointers from the top of the key by Poe put the Bobcats ahead for good.
BLHS led 34-28 entering the fourth quarter. A Bergstrom layup and another Poe trey pushed the lead to double figures early in the fourth quarter before the Bobcats cruised to the finish.
"I don't know why, but always the second half our offense decides to wake up. It was a really good second half offensively," Poe said. "We ran our plays almost to perfection, we killed time off the clock. And our defense has always been really, really good, so that helped a lot."
Simpson used the opportunity provided by the comfortable late lead to sub out his seniors one by one so they could receive an ovation from the crowd and enjoy the final moments relaxing together on the bench.
Bergstrom finished with a game-high 17 points, Poe had 15, Sanders scored 10 and Jamie Johnson added 5 for the Bobcats.
Baldwin led Ottawa with 16 points. No other Cyclones scored in double figures.
NOTES
— Basehor-Linwood has been to state three of the past four years (2008, 2010, 2011) but didn't win a game either of the first two trips.
— The last time the girls basketball program won a state trophy, Basehor High School placed third in 1984, four years before merging with Linwood High School. That Bobcat squad, coached by Richard Haynes, went 19-5 and beat Baxter Springs in the first round, 53-41. BHS then lost in the semifinals to Concordia, 54-37, before beating Council Grove, 39-36, in the third-place game.
— The victory capped the careers of BLHS seniors Shelby Equels, Amanda O'Bryan, Megan Bergstrom, Courtney Poe and Macyn Sanders.
— Holton defeated Cheney in the state finals and capped a 26-0 season with a state championship. Holton won the Basehor-Linwood Girls Basketball Invitational in January.