Candidate Richard Drennon pushing for more unity on Basehor City Council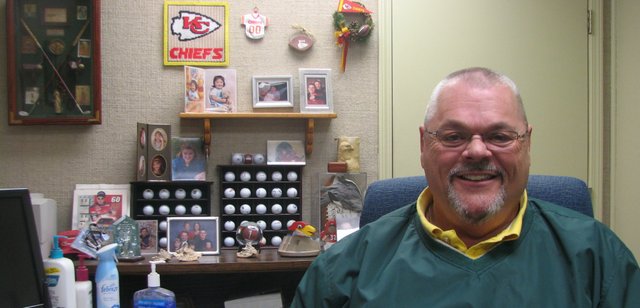 Editor's note: The Sentinel continues its coverage of the April 5 local elections this week with profile stories introducing you to three of the six candidates running for three Basehor City Council seats: newcomers Fred Box and Richard Drennon and incumbent council member Iris Dysart.
Go here for the Sentinel's story on Fred Box, and go here for the story on Iris Dysart.
The other city council candidates are newcomers Travis Miles and Bob Moore and incumbent Bill Moyer.
The last day to register to vote before the local elections is Monday.
Richard Drennon says he has watched as conversation has grown heated at some recent Basehor City Council meetings.
And though he understands that people have different opinions about what decision to make, he said, he'd like council members to remember that they're all representing the same group of people: the residents of Basehor.
"I really think the council has to show unity," Drennon said.
Drennon, one of six candidates running for three open Basehor City Council seats in the April 5 election, said he'd like to see the council operate as a team reflecting the interests and desires of the people who live in Basehor. If he's elected, that's how he'll make his decisions, he said.
"There might be something that the people of Basehor might want that I don't completely agree with," Drennon said. "But if the majority of people want that, that's the way I would have to go."
In fact, he said, he would have no option but to seek input from people around the city if he became a council member, so that he could gain an understanding of the complex issues that the council sometimes considers.
"I don't care who you are: You can't know everything. You can't understand everything," Drennon said.
Drennon has been the buildings and grounds director for the Basehor-Linwood school district for 18 years, and before that he served a term on the Basehor-Linwood school board.
When he ran for the school board, he said, he had his children's futures in mind. But in running for city council, he said, he's thinking of his grandchildren.
"I just want to see the future good for them," Drennon said. "I want them to grow up and want to live in Basehor, not move out of Basehor."
Drennon said he likely had more relevant prior experience to prepare him for a city council seat than he did when he joined the school board, and he hoped to draw on his experience working with the school district's construction projects in making decisions about road construction and other issues the city will tackle.
He said he would like the council to focus its cooperative energy on drawing in more residents and businesses, perhaps starting with new potential retail space that would be opened up by an extension of Wolf Creek Parkway.
"If you get more rooftops, you start getting some businesses in here, and then you can go from there," Drennon said.
He said the school district, with its new facilities and quality staff, should help draw people to Basehor, as should the city's convenient location.
"It is a wonderful place to be, because you're close to the Legends, you can get around the highway and go to the airport. You can go anywhere you want," Drennon said. "But yet we still live kind of like we're in the country, you know?"
He said that a cooperative mindset on the city council could help Basehor use those advantages to increase growth.
"We have to work as a team to pull the city out of what's going on at this point," Drennon said.