Wristen: Final game cements seniors' legacy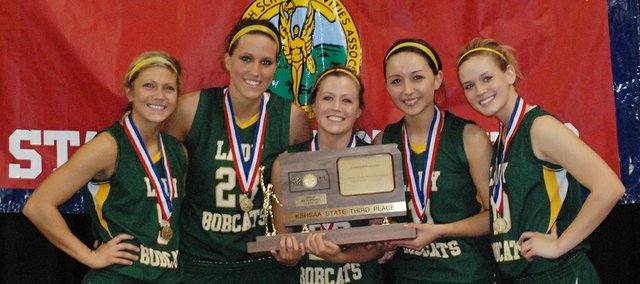 Salina — Regardless of how this year's Class 4A state tournament had gone, Basehor-Linwood girls basketball coach Noah Simpson knew his seniors would leave behind a legacy of winning.
During their four years in the program, the Bobcats advanced to the state tournament three times — 2008, 2010 and 2011 — and made it to the substate finals in 2009. They also won two Kaw Valley League championships.
That's a list of accomplishments seniors Megan Bergstrom, Shelby Equels, Amanda O'Bryan, Courtney Poe and Macyn Sanders should take great pride in.
"Those are things that are just unheard of in girls basketball, and they're things that we hadn't done in a while," Simpson said. "It's a huge credit to the kids."
Still, with a resume like that, the seniors needed something more to show for it.
They needed to win a game or two at state, because that hadn't been done in the two previous trips. They also needed a trophy — for their sake.
All they've done during four years at Basehor-Linwood is win basketball games. They needed that final piece of hardware to solidify their legacy so that years from now when they return to BLHS for a visit they could look in the school's trophy case and see it there, along with the celebratory photo, as long-term evidence of their contributions to Bobcat basketball.
They took care of getting a victory in the first round when they disposed of Colby, 37-28. They dazzled with their defense, ditching their typical man-to-man for a devastating zone and diamond-and-one combination that absolutely baffled the Eagles.
The Bobcats replicated the defensive effort on Friday against defending state champion Cheney — winner of 52 straight games — but were unable to generate enough offense in a heartbreaking four-point loss that knocked BLHS out of state title contention.
But there was still a chance at a trophy.
The third-place trophy was at stake in Saturday's consolation final against Ottawa, and for about a quarter and a half it looked like the opportunity to bring home some hardware was going to slip away. The Bobcats were still stinging from the loss to Cheney, and the Cyclones — a less talented bunch with one major scoring threat — were exploiting the Bobcats on both ends of the floor.
"I think it was a lot of things," Poe said of the early struggles. "It was a mix of emotions of (the Cheney game), a little bit of a lack of focus and maybe just not really realizing how important this game was as well. But I think we king of got back into the groove of everything, and it went a little bit better after that."
It went a lot better, actually.
During the final 21 1/2 minutes, Basehor-Linwood outscored Ottawa 39-19 and rolled to a 47-36 victory.
It was fitting that the seniors took the reins in leading the comeback. Seniors accounted for all 13 points — the first four by Sanders and the last nine by Bergstrom — during a 13-0 run that turned a nine-point deficit into a 21-17 lead.
O'Bryan dished five assists and had zero turnovers while playing extended minutes at point guard while Poe was in foul trouble.
Equels sparked the defense by hounding Ottawa's perimeter players, including standout Jordan Baldwin, and scooped up multiple loose balls that led to Bobcat fast breaks in transition.
Poe bombed in back-to-back 3-pointers in the third quarter and put the Bobcats ahead for good.
Basehor-Linwood needed its seniors to step up and lead in their final game, and that's exactly what they did.
What a fitting way to close out their careers.
"We've been together for a long time," Sanders said, "and when that first quarter happened, we knew that it wasn't going to continue because we knew we couldn't let it continue. That's kind of what Simpson said, 'This is your last game; make it a good last game,' and we did. We had to do it. We had to step up and get it going."
As a result of their stepping up, the Basehor-Linwood seniors got the ending they deserved. They got to close out their careers celebrating with smiles on their faces and a trophy in hand.
The BLHS records the past four seasons have been 22-2, 17-6, 16-8 and 20-5. That's a collective 75-21. As Simpson said, "That's unheard of."
Bergstrom, Equels, O'Bryan, Poe and Sanders have made plenty of history at Basehor-Linwood. All they've done is win, so it's only fitting that in their final game as Bobcats they walked off the court as winners.