Basehor City Council candidate Travis Miles turns eye toward future, families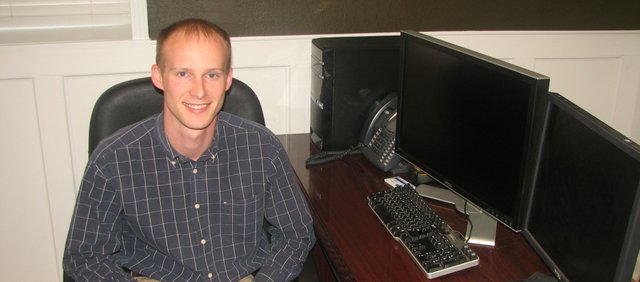 Editor's note: The Sentinel continues its coverage of the April 5 local elections this week with profile stories introducing you to two of the six candidates running for three Basehor City Council seats: newcomer Travis Miles and incumbent Bill Moyer. Learn about Moyer here.
Candidate Bob Moore has not responded to the Sentinel's repeated attempts to contact him, and he was not present at a candidate forum Tuesday.
The other city council candidates are newcomers Fred Box and Richard Drennon and incumbent Iris Dysart. Go here to learn about Box, here to learn about Drennon and here to learn about Dysart.
Travis Miles' roots in Basehor extend well into the past, but in his city council campaign, he says, his eyes are on the future.
His parents graduated from Basehor High School in 1980, he grew up in Basehor and, after graduating from Kansas University in 2009, he returned to Basehor to start a family with his wife.
"I think for myself, being younger, just starting a new family, having a young daughter — I think that it provides me the ability to look a little bit further into the future," Miles said.
That perspective is a big factor in his campaign for the Basehor City Council, Miles said. He is one of six candidates who've put in their names for three council seats up for election on April 5.
"We've got to make sure that Basehor continues to be the community that it has," Miles said, "so that it's not only a place where I want to raise my children, but maybe my children want to raise their children and their families, just like my mom and dad did."
He said he wants the city to grow, in both the residential and business spheres, but he doesn't want it to lose the qualities that make it attractive to families.
"We still have that small-town, family-oriented community," Miles said. "I don't want to see that change."
Another important factor in keeping the city attractive, he said, is to ensure that a heavy financial burden is not placed on its residents as the city grows.
"We've seen a lot of development happen over the last 10 years," Miles said. "I'd like to see that growth continue, but we must approach that growth in a manner that is financially responsible to our community."
For instance, he said he would be cautious about extending tax incentive offers to a potential new occupant of the former Wolf Creek Marketplace building, after a bevy of incentives offered to the operators of the grocery store did not keep it in business.
"The community wanted a marketplace, but at the same time, to what cost?" Miles said.
He said that before extending an offer of incentives, he would want to be sure that a new business would be built to last and would contribute solid tax revenue to the city.
Travis' uncle, Steve Miles, owns Miles Excavating, Inc., in Basehor.
Miles also works in the city, as an IT manager for Suburban Water, Inc., so he is invested not only in the outlook for city residents but for city businesses, as well, he said.
He has answered questions from residents using a website he created for his campaign, he said.
"Not only being in the IT field, but being a younger candidate, I'm going to look for new avenues to connect with the community, both young and old," Miles said.
On the issue of the recent 40 percent city sewer rate increase, Miles said that such a rate hike would be a difficult decision to make, but it was likely needed in order to keep the city's sewer infrastructure up to date.
"It's obviously not going to be the popular decision, but at the same time it was probably needed," he said.
Miles said that, though he is young, his business education from Kansas University helped him develop management, leadership and financial skills that he would draw upon as a city council member.
"Age doesn't necessarily imply experience, and youth doesn't necessarily imply inexperience," he said.