CMS

teacher's daughter still in Japan, but safe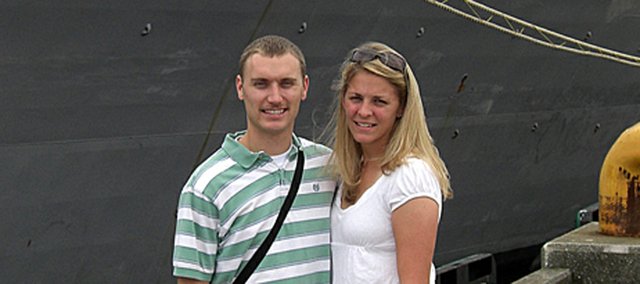 Pictures started shaking on the walls, the blinds rattled and a small, egg-shaped clock on the coffee table danced about until it nearly fell off the edge.
This was the scene in the Tokyo apartment of Jessica Brack, a 2007 graduate of Kansas University and the daughter of Graham and Carrie Gordon of De Soto, as the March 11 earthquake struck. Gordon was visiting his daughter, who lives on the Naval Air Facility Atsugi base with her husband, naval Lt. j.g. Ryan Brack.
"My wife and I lived in Japan for a number of years when I was in the Navy, so I'd experienced earthquakes before," Gordon said. "I realized this one was different when it lasted so long. Things were shaking for at least two to three minutes."
Gordon and his daughter took shelter in the door frame to the apartment's hallway and were not harmed.
Back in De Soto, Carrie Gordon, Graham's wife and Jessica's mother, woke up to news of the devastating earthquake in Japan on CNN.
"I was worried until I saw that commercial airlines were still landing in Tokyo, then I knew they had to be OK," said Carrie Gordon, a teacher at Clark Middle School in Bonner Springs. "Then (CNN) showed the map of where the quake hit the hardest, in the north, and I knew they had to be safe in Tokyo."
With some difficulty, Graham and Jessica were able to get a call through to Carrie that same day.
"Technology is so much better now that it was when we were stationed in Japan 30 years ago, but people still don't think about how easily that service can be cut by a disaster," Graham Gordon said. "Even if service towers aren't damaged by an earthquake or a tsunami, they're swamped with calls from everyone wanting to tell someone they're OK."
Graham Gordon returned to the States on March 14, while his daughter stayed behind with her husband.
"We talked a lot about whether (Jessica) should come home then or even yesterday, but she was torn," Graham Gordon said. "She felt a responsibility to stay with her friends and her job, so she did."
Jessica's husband, a helicopter pilot working on naval relief missions, will remain in Japan with the rest of his active duty squadron for another two years.
"Jess was just home for a visit in January, she didn't plan on coming back again until the coming fall," Carrie Gordon said.
For everyone in the family, not knowing is the hardest part.
"What's happening with these nuclear reactors is just terrifying. We feel terrible for the people of Japan and all that they've endured," Graham Gordon said. "I hope they can get a handle on things and that Jessica will just get home and we'll get things figured out, but we'll just have to wait and see."