Incumbent Bill Moyer looks to 'represent what's new about Basehor' in city council race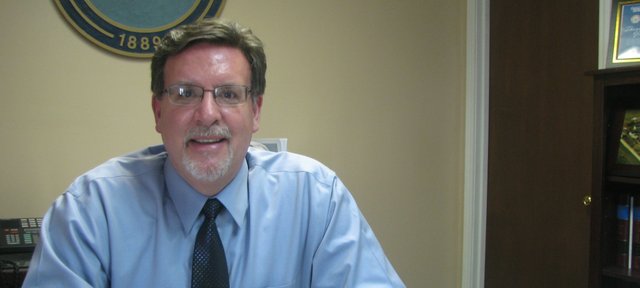 Editor's note: The Sentinel continues its coverage of the April 5 local elections this week with profile stories introducing you to two of the six candidates running for three Basehor City Council seats: newcomer Travis Miles and incumbent Bill Moyer. Learn about Miles here.
Candidate Bob Moore has not responded to the Sentinel's repeated attempts to contact him, and he was not present at a candidate forum Tuesday.
The other city council candidates are newcomers Fred Box and Richard Drennon and incumbent Iris Dysart. Go here to learn about Box, here to learn about Drennon and here to learn about Dysart.
Most city council terms begin with an election. Bill Moyer's began with a letter.
After his neighborhood south of Basehor, Cedar Lake Estates, was annexed into the city shortly after city elections in 2009, he wrote to Terry Hill, then the mayor-elect, saying that residents were angry they'd been added to the city but had been unable to vote for its leaders.
After a three-hour meeting, he said, Hill offered to nominate Moyer to replace him on the council after he became mayor, to help give those residents a voice.
"I sort of represent what's new about Basehor," Moyer said.
Now, after serving two years on the council, Moyer is running in his first election. He is one of six candidates for three council seats up for election on April 5.
Moyer said he does not play favorites among Basehor residents because each council member represents the entirety of the city. But he said he provides a perspective reflecting the residents of Cedar Lakes and some of Basehor's other newer neighborhoods, a part of the city with which other council members and city staff may be unfamiliar.
"They don't really know what's on the minds of those citizens," Moyer said.
Moyer moved to that neighborhood with his wife in 2004, after retiring as a colonel after a 24-year Army career. He now works for a Leavenworth IT company that contracts with Fort Leavenworth.
The city's priority over the next several years, Moyer said, should be to attract new people to build or buy homes in the city, just as he chose to do south of the city seven years ago. And it won't be enough to institute programs or tax incentives designed to attract homebuyers, he said — the city council members and staff must actively recruit new residents, as well as businesses that can make the city more attractive as a place to live.
"We've got to get off our butts and get out there," Moyer said, "and find new homebuyers and new businesses that will come to Basehor. We can't sit and wait for them to come."
He said he'd like to be able to meet with groups interested in building a new retail store in the former Wolf Creek Marketplace building, or meet with executives with the Cerner Corporation about promoting the city as a place to live for employees at the company's planned facility at Village West.
Moyer said that he was prepared to make tough choices necessary to prepare the city for the future. For instance, he noted that he voted for the city's recent 40 percent sewer rate increase even though he knew he was facing the election soon. The council voted, 4-1, for the increase.
"With re-election just a couple months away, I could have voted 'no,' " Moyer said. "The vote would have passed 3-2. But it wasn't the right thing to do."
He said it was easily the toughest decision he'd had to make as a council member, but he ultimately decided to vote for the steep increase because it would cost residents less in the long run, according to city staff's projections.
"I decided that evening that I was going to vote for what was the right thing to do, not what was the popular thing to do," Moyer said.
The seeds of the rate increase, he said, were sown late in the last decade when council members declined to raise the rates even though the city was planning a new wastewater treatment facility.
He said he'd like to cut some items from the city's budget in coming years to ensure no additional financial burdens on residents. One area he said he'd like to cut was the pay given to city council members and the mayor.
Moyer said his presence on the council not only provided a voice to residents of newer neighborhoods, but also helped give the council a diversity of life experiences. The council should not consist only of longtime residents, he said.
"You want to have people with different experiences: retired, still working, young, middle-aged and older," Moyer said. "When you have a cross-mix of those kind of council members, I think it's better for the city and it's more representative."