Title defense begins for
BLHS

softball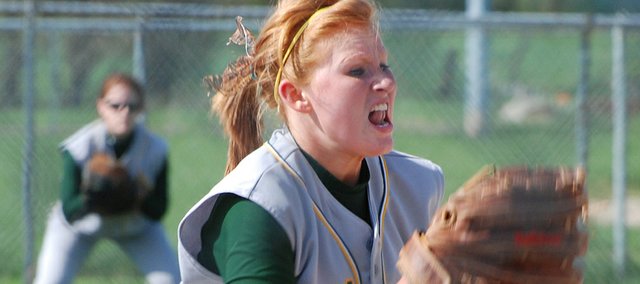 The victory lap was nice for the Basehor-Linwood softball team after it won the 2010 Class 4A state championship, but make no mistake: the Bobcats haven't been resting on their laurels since then.
No, the team has been working hard at practice and stressing the basics of the game as it prepares for its title defense.
"We've been working on basic fundamentals, especially with the new players to the program," coach Susan Mayberry said. "The freshmen have probably thrown more softballs and fielded more ground balls in the last three weeks than they have in their eight to 10 years of playing softball."
Emphasizing the basics might seem odd for a team that returns a lot of the talent from its state title roster — including left-handed pitcher Brooke Redmond, last year's Kansas City Metro Player of the Year — but that's exactly how the Bobcats rose to the top in the first place.
It's a new year, but the plan hasn't changed.
"Our goal is the same as it is each year, to take each game one pitch at a time, one out at a time, and one inning at a time," Mayberry said. "And to do the very best that we can do individually to help the team be successful."
The team's top returners are seniors Shelby Pierce and Mackenzie Lee. In addition, Basehor-Linwood has a solid group of juniors in Hannah Tush, Redmond, Olivia Cowan and Kortney Rist along with Courtney Leive.
"Each one of the kids mentioned bring the understanding of what it takes in practice and our everyday habits to be successful," Mayberry said. "They bring the will to win, and the commitment to each other to do what's best for the team. They understand Bobcats softball and what it means to be a part of it. These kids understand the game and will be looked upon to teach the players in the program what's expected and what can be accomplished through working efficiently."
Basehor-Linwood also has to replace Megan Rehm, Caylee Smith, Rachel Neal and Tara Chumley, who were seniors on last year's team. Part of that will be accomplished by developing a chemistry that each team has to find during the year. Mayberry said the team is excited for games to begin.
"I think the players are extremely excited and anxious to get our season underway," she said. "The returning players from last season understand how much fun postseason play is, and they want to experience it again. It's definitely a determined and positive atmosphere.
"These kids are geared up and ready. They are excited."
One key to a successful season will be that new players will need to step up.
"We're looking to be pleasantly surprised with the play of some of our freshmen," Mayberry said. "Players playing like they belong, performing like they belong, and doing their job is going to be important. Staying healthy and accepting whatever role we are given by the coaching staff and be relentless and determined."