Upcoming fair to tout services for the young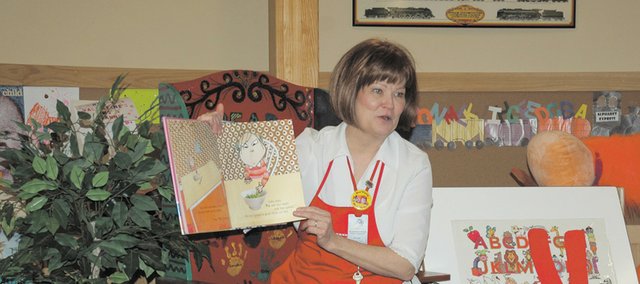 Families with children ages 8 and under can stop by April 2 at the Bonner Springs City Library for some free fun and food, as well as helpful information.
The library is joining with the local Parents As Teachers organization for the first Books, Blocks & Bubbles Young Child Fair, which they hope to make an annual event. Between 10 a.m. and noon, parents and children can drop in for activities, snacks and information about services available for young children.
"We really want to connect people with these aged children with the wonderful services that not only the library can offer and Parents As Teachers can offer, but a lot of places in our community (offer)," said Kimberly Beets, library director. "I think that a lot of people think that help with parenting starts when (children) start school, but it really doesn't. There are so many wonderful things out there to help."
Jeanne Dunbar, children's coordinator for the library who does outreach work with several area preschools, said she had been interested in putting together some kind of young child fair at the library for several years. The idea, however, was pushed to the backburner while the new library was built and then while the library staff moved and settled into the new facility.
Then, Dunbar met Donna Higbee and Bobbi McClellan, parent educators with Parents As Teachers — an organization that works to ensure young children are ready for kindergarten. Higbee and McClellan also were hoping to create an activity that would bring together parents, children, preschool providers and other organizations providing services benefiting young children.
They decided it would be best to organize an event to coincide with the national Week of the Young Child, which begins April 10 this year.
Dunbar said she felt the fair would be beneficial. Through her work, she knows some parents can become isolated while raising young children.
"(They) are unaware of the milestones that children need to be reaching along the way, and what they should be doing — is this normal?" she said. "Should they be walking by now, should they be talking, should they be stacking blocks?"
Higbee said this is why, in addition to activities for the children like storytime and nutritious snack ideas, Parents as Teachers would provide their BLOCK Fest activity — a set of large, cardboard blocks that provide educational play in five different areas.
"Kids can come in and facilitators will be available to help with math questions, asking how long is something? … Working on some math concepts and some problem solving, too, that I think a lot of times families have kind of forgotten about — just some good, old blocks," Higbee said.
Bonner Springs High School students in Kris Munsch's woodworking class are helping out by making a similar set of blocks to give away in the blocks area.
In the library's meeting room, several different agencies that provide health services for young children, like the Family Conservancy, Children's Mercy Health Partners and the YMCA, will be represented.
A dentist and optometrist will explain free screening services available for infants and young children, and free hearing screens will be offered for children ages 3 and under. Emergency Medical Services also will be on hand to offer information on correct installation of car seats and possibly do car seat checks, as well.
Thanks to a grant through the Cabot Cheese company, a free snack of Cheesy Ants and Earthworm Punch will be available, in addition to healthy snack information. Story time also will take place by the library's fireplace.
To complete the alliterative name of the fair, children who visit will be given a map of each activity area, and those who get stamps for visiting several areas will get free bubbles. There also will be other door prizes given away.
For more information, contact the library at 441-2665.