Woman reunites with Fort Leavenworth officer who offered help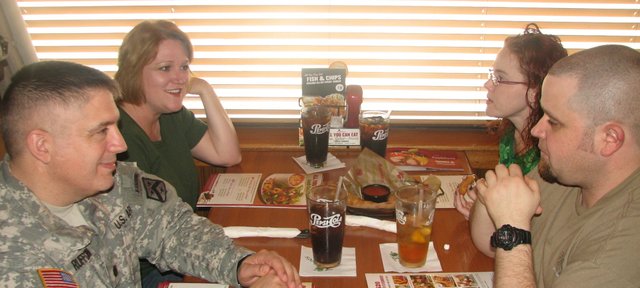 The last time Amanda Dearinger had seen Lt. Col. Rich Ruffcorn, she was fearful for her and her children's lives.
But when they finally met again, about three months later, they could both sit back in their restaurant booth as they talked about their spouses who'd both grown up on farms and what kinds of vegetables their children would or wouldn't eat.
In an article published in the Sentinel in January, Dearinger told the story of a morning in December when a stranger in soldier's fatigues helped her drive her 6-year-old daughter to Basehor Elementary School from Leavenworth after a multiple sclerosis episode forced her to pull to the side of the road. She said then that she hoped to find and thank the man who had helped her, whom she remembered only as "Rick."
Last week, she got that chance.
Lt. Col. Rich Ruffcorn lives in Basehor and works as an intelligence adviser at Fort Leavenworth, and he was in Germany in January when his wife, Doris, read the Sentinel story, he said.
"When I called home, my wife's like, 'You're in the paper! You're in the paper!' " Ruffcorn said.
Rich had read a letter Dearinger had written to the Fort Leavenworth Lamp on-post newspaper, he said, but had declined to contact her, not wanting to seek attention.
"To me, the big thing is it's not about me, you know?" Ruffcorn said. "Somebody else put me there to help her out."
He said that, on the morning of Dec. 14, he was thinking and praying about the blessings in his life when, heading north on 155th Street from Basehor toward the fort, he saw an SUV that had turned across Fairmount Road onto a patch of roadway on the edge of the intersection. He wondered if the driver was having difficulty with the slick roads.
He drove on through the intersection, but grew concerned as he saw the vehicle remain stopped in his rear view mirror.
"It was like as if someone told me, 'Rich, you need to turn around,' " Ruffcorn said.
When he pulled up to her window, he said, she rolled it down and he saw she was crying with her head on the steering wheel.
"The first words out of her mouth is, 'I'm dizzy,' " he said.
After Dearinger told him that she had MS and was having an episode that was impairing her driving, Ruffcorn called his superiors at Fort Leavenworth and said he would be late for a meeting. He followed her as she drove the remaining three miles to BES, where he prayed with her before heading back north to the fort.
"I just remember thinking, this poor lady, all she is is just this young woman who wants to be a normal mom," Ruffcorn said.
After he returned from Germany, he exchanged emails with Dearinger. Because Ruffcorn had to take another overseas trip for the Army, this one to South Korea, they weren't able to meet until this past week.
So on Thursday, March 17, Ruffcorn, Dearinger and their spouses spent nearly two hours chatting and eating at the Applebee's restaurant in Leavenworth. Both said that all four of them had a great time.
"It was very nice to meet him when I'm not busy and having all of the problems I was having at that time," Dearinger said.
Ruffcorn said he and his wife planned to stay in touch with the Dearingers.
"It was very humbling to me," he said of that day three months ago. "It still is."