Births at St. John's a generational tradition for Lansing family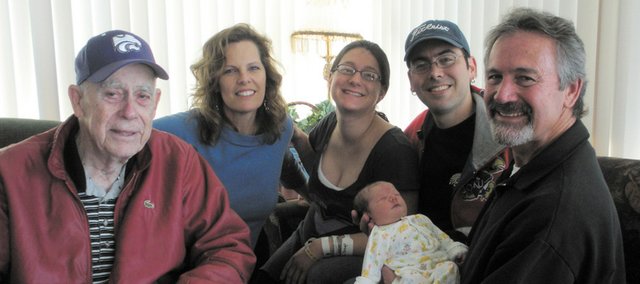 For Ann Hoins, Lansing, the connection to St. John Hospital, Leavenworth, and the Leavenworth community runs deep—four generations deep in fact.
"My husband, John, and I were both born at St. John," Hoins says, "but so was his father, all three of our children, and now our granddaughter."
Hoins, who grew up in Leavenworth, says her earliest memories of the hospital include attending the groundbreaking for the present-day building. But most of her experiences with St. John have centered on the birth of her children, and now her granddaughter. "When I gave birth to my three sons, I never considered going to any other hospital," Hoins says. "It was a simple choice for me. St. John is our family's hospital."
The family continued its longstanding tradition with St. John when her granddaughter was recently born at the hospital's Women's Center. "Our family was very pleased with the caring and concerned staff," Hoins says. "Susan Bray, R.N., a good friend of our family's, works at the St. John Women's Center, so she helped us feel very comfortable there. Everyone did a wonderful job."
The Women's Center staff includes board-certified obstetricians/gynecologists, and nurses experienced in obstetrical and neonatal care. St. John also offers new parents comprehensive education and support through classes on labor and delivery, including breastfeeding support with a certified lactation consultant.

Hoins is so committed to the hospital, she recently volunteered to serve on the Providence St. John Foundation Board of Directors. This year, she is assisting with the logistics for the Foundation's largest fundraising event, A Legendary Evening, the annual Gala, which will be Friday, June 10 at the new Livestrong Sporting Park soccer stadium at Village West near The Legends on State Avenue. The Foundation helps fund projects and services at St. John and its affiliate, Providence Medical Center, Kansas City, Kan.
Hoins works in the family's thriving sign business, Young Sign Co., Inc. Her father, Gene Young, started the company in 1978. Hoins, together with her husband, John, and her brother, Tom Young, have worked to build the company into a full-service sign company. The family business has grown to include Hoins' three sons, Eric, Chris and Jeff.