Basehor City Council candidate questionnaire: Bill Moyer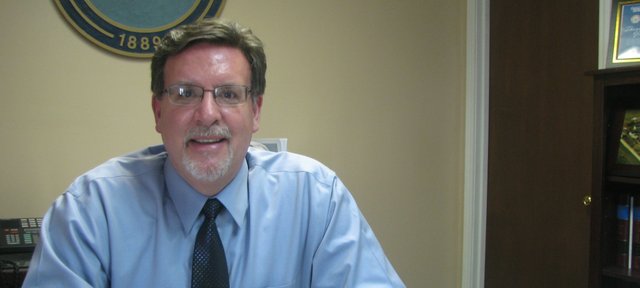 Incumbent Bill Moyer is one of six candidates running for three Basehor City Council seats in the April 5 election. Below are his responses to a questionnaire distributed by the Sentinel to the city council candidates.
For information on the other candidates and other election details, take a look at the Sentinel's 2011 local election voter's guide.
Biography: Bill Moyer
Age: 52
Family: Married 22 years to Sonja S. Moyer. Sonja works as a leadership instructor for the US Army Management Staff College, Fort Leavenworth; Son – Grant A. Moyer, junior, Basehor-Linwood High School
Current Employment: Have worked for 3.5 years as a senior program manager for General Dynamics Information Technology (GDIT), Leavenworth. I manage GDIT's $260 million contract with the US Army to provide contract support to the Combined Arms Center at Fort Leavenworth.
Past Employment History: General Dynamics IT senior program manager, 2007-2011; Booz Allen Hamilton senior military analyst, 2004-2007; US Army officer, 1980-2004: commanded two Cavalry Troops for total of 41 months (supervised and led 160 soldiers); commanded a M1A1 Abrams Tank Battalion for 24 months (supervised 585 soldiers); retired as a colonel
Education: Governor Mifflin High School, Shillington, Pa., 1976; York College of Pennsylvania, York, Pa., Bachelor of Arts, criminal justice, 1980; US Army Command and General Staff College, Fort Leavenworth, 1991; US Army School of Advanced Military Studies, Fort Leavenworth, Master of Military Art and Science in military studies, 1992; US Army War College, Carlisle, Pa., 1999
Number of Years Lived in Community: Seven
Previous Public Offices Held: Basehor City Council member since April 2009
Community Involvement: Leavenworth/Lansing Rotary Club; Atonement Lutheran Church, including service at Children's Memorial Lutheran Church soup kitchen for homeless.
What made you decide to run for election to the city council?
I've served on the council for two years. When my neighborhood, Cedar Lake Estates, was annexed by Basehor in April 2009, I wrote Mayor Terry Hill a letter asking he consider nominating me to fill his vacated city council seat to represent the newest residents of Basehor, the 100 homes of Cedar Lake Estates. I'm running for re-election for city council because it's important work that requires experienced citizens from all parts of Basehor to guide the mayor and city staff with key decisions involving the taxpayers' tax dollars. I want to make sure my fellow citizens vote for council members who can ensure their tax dollars are well cared for.
What special qualifications would you bring to the office?
I bring two years of Basehor City Council experience, seven years of business experience at the senior manager level, making decisions, creating and executing budgets, and providing business development services to the companies I work for. And I bring 24 years of military experience and leadership to the city council. While serving in the US Army, I commanded two cavalry troops as a captain, leading and supervising 160 soldiers, and as a lieutenant colonel served two years as a M1A1 Abrams Tank Battalion Commander, leading and supervising 585 soldiers, managing a $15 million budget and responsible for $125 million in equipment.
How would you characterize your decisions and your voting record?
A council member's decision is essentially their vote. I voted by making sound decisions based on facts and analysis, not based on who else on council was going to vote my way or what would be the popular vote. I don't vote based on emotion, either. I would characterize my voting record as sound and mature, based on what's best for the city and the citizens. I take every vote seriously.
What leadership qualities do you possess?
From second lieutenant to colonel, I served 24 years in the Army leading soldiers, accomplishing tough military tasks and sacrificing for my country. There is no leadership laboratory like the military. I was a leader of character and values who treated my soldiers with dignity, respect and honor. The way I served as an Army leader is the way I serve my community today as a leader and as a Basehor City Council member. I will always do what's right morally and ethically. I don't know any other way. You vote for me, and you get a community leader you can count on to make ethical decisions that are best for our city.
How do you plan to stay in touch with constituents if you are elected?
It's all about listening to the voters. Listen at the council meetings, listen when they call and listen when they email. We should improve our website and include a blog by which council members and citizens can communicate. We should use social media such as Facebook to reach out to our younger voters. And I plan to accept any and all invitations to speak at community organizations.
Describe what you see as the main role of a city council member.
Council doesn't run the city. The city staff and mayor run the city. Council is the check and balance to ensure the mayor and city staff safeguard and spend wisely all of the city's income. Council is the face of the voters. Council must make mature, informed decisions on how best to budget the funds and watch over the spending of funds on city services. Council is the gatekeeper of common sense and good decisions.
What is the city of Basehor's best attribute, and why?
That's easy. It's the people that live in Basehor. Our citizens work, play, relax, worship, volunteer and serve our city 24/7, all year long. We are a city made up of hard-working Americans that believe in and worship their God, pay their taxes, care for one another and take pride in the flag and all our country means to us. Yes, we have very good schools, safe neighborhoods, and affordable housing, but the men and women that live in our city are and will always be our greatest assets. Nothing else comes close.
What are the three most important issues facing the city, and how would you confront them?
We must expand our tax base by attracting more retail and industrial businesses to the city and attract more home buyers to our neighborhoods, all to generate more income to pay back key loans to the state to include our waste water treatment plant and the new road Wolf Creek Parkway. Council must empower the city staff and mayor to recruit business today and offer incentives to convince businesses to build and relocate to Basehor. Our city must continue to provide incentives to homeowners to buy a new or used home in our city. We've established a rebate program and must work harder to get the word out to buy here. Bringing in new businesses and homeowners will increase our tax base so we can pay back "growth" loans without increasing property taxes. Economic growth will drive down property taxes for the rest of us.
Under what circumstances would you favor increasing property taxes or sales taxes?
I can't think of any. If I am re-elected, I will fight to gather two other council votes to lower property taxes and hold the line on sales tax. We can trim our city budget in 2012 and beyond to return the increases to city sewer rates.
How would you increase the city's tax base?
We must bring in more retail and commercial businesses, increase home sales and look to annex neighborhoods adjacent to the city such as Glenwood Estates. I will volunteer to form and serve on a Basehor economic development council designed to bring in two to three new businesses in 2011-2012 and 100 new home buyers. It's time to hold a city summit designed to bring together city, business, and community leaders to set growth goals and knock on doors to recruit businesses and home buyers.
What can the city do to increase economic development?
We have to become self-reliant. Our city must leverage the smarts and influence of its top citizens from the city, business, and community and form an economic development council to recruit businesses to our city. We can't wait on Leavenworth County to do this for us. It's going too slow. The mayor must chair this new organization and ask influential citizens to help city government grow. We can do this if we tie our recruitment efforts to incentives, our strengths such as schools and access to Legends and Kansas City, and offer an available workforce.
Are you satisfied with the job being performed by the city's professional staff, and why?
I sure am. Since I came to the council in 2009, the mayor has hired a new city administrator, city engineer and city clerk, all with the approval of the city council. All three are an upgrade. As a retired military officer and senior business manager, I understand the importance of recruiting high-quality staff to fill the key positions. We have done just that in Basehor. Our senior city staff members are dedicated public officials. They operate grounded in values and ethical behavior. Our city is much better off with the new staff!
How would you evaluate the city council's decision regarding the city's sewer system and sewer rates, and what would you do differently, if anything?
Of the six candidates running for council, I am the only incumbent council member running for re-election that voted to raise the sewer rates. I made a tough choice to raise the rates, and I knew my vote would be unpopular. I could have voted no. But the city had gotten to a point where the rates had to be raised to start paying down the debt on our new treatment plant. City councils as far back as six or seven years ago should have started to gradually increase the sewer rates to pay for the treatment plant, but failed to do so. So the decision landed in our laps a couple months back. Yes, I voted for the increase, but I voted on the option that kept future costs as low as possible. If we had put off a rate increase for one or two more years, then sewer rates would have climbed by 60 or 70 percent. I wasn't going to vote to do nothing and then saddle residents with a much larger rate increase in 2012. This was the toughest vote I made in my two years on council. The fact is we must pay off the treatment plant loan, either now or later. I thought it responsible to start now. To return the 2011 sewer rate increase I will work to lower our 2012 property taxes and will look to the future to find other ways to put money back in family budgets, such as rebates to use the Field of Dreams.