Basehor City Council candidate questionnaire: Fred Box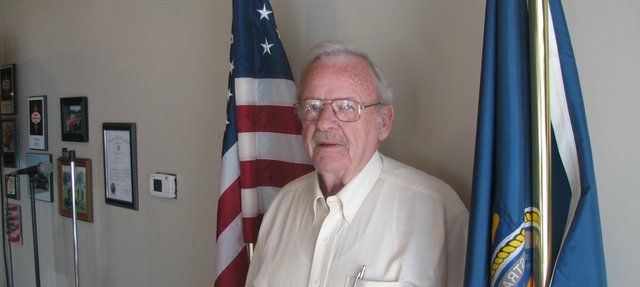 Fred Box is one of six candidates running for three Basehor City Council seats in the April 5 election. Below are his responses to a questionnaire distributed by the Sentinel to the city council candidates.
For information on the other candidates and other election details, take a look at the Sentinel's 2011 local election voter's guide.
Biography: Fred Box
Age: 68
Family: Wife is Lisa; I have six children, nine grandchildren, and seven great-grandchildren.
Current employment: Currently retired, and US Army Retired
Past employment history: Previous experience includes over 20 years in the US Army, earning multiple Bronze Stars with Valor and multiple Purple Hearts; KCKCC police officer; Private investigator; director of security for Corporate Woods; Special deputy in Wyandotte County; director of human resources and safety director for a large continental trucking company in Kansas City, Kan.
Education: I attended grade school and high school in Basehor; KCKCC courses in business management; and multiple US Army schools, including Basic & Advanced Leadership schools
Number of years lived in community: Lifelong resident
Previous public offices held: None
Community involvement: For the last six years I have been Commander of the Bob Wiley Memorial VFW Post 11499, and I am currently on the board of the Basehor Community Care program.I am a member of the Basehor Historical Society and am a past Deacon of Basehor Baptist Church.I have always been involved in Basehor's development and frequently speak at City Council meetings.
What made you decide to run for election (or re-election) to the city council?
I decided to run for Basehor City Council because I have lived in Basehor for most all of my life. I feel like I'm fairly in tune with the wishes of most of the Basehor residents, and I want to make a difference.
What special qualifications would you bring to the office?
I have watched Basehor grow from 276 people to what we have now, and believe I know a lot of what Basehor needs and what should be left alone.
How do you plan to familiarize yourself with the issues that come before the council?
I have been attending City Council meetings for the last two years, and I talk to many of our community members daily.
What leadership qualities do you possess?
I'm retired military, and I have been to Basic and Advanced Leadership Schools. I have been the VFW Commander for the last six years.I have run my own business for 10 years. I have been director of safety and director of human resources for a large trucking company. I was a private investigator and have worked in law enforcement.
How do you plan stay in touch with constituents if you are elected?
I would like and hope to have public information meetings to be able to help in the management of city concerns, and I am out and about in the community daily.
Describe what you see as the main role of a city council member.
I expect your and my City Council to make decisions that are fair and that make sense. Every member should be knowledgeable on all issues that come before the council (which requires each of us to read and do our homework), and the council must be fiscally responsible. The Council must consider competing interests and fairly balance them with the city's interests.
What is the city of Basehor's best attribute, and why?
Basehor's best attributes are the Basehor schools.I feel our schools are the best in the area, and should and will attract families to Basehor.
What are the three most important issues facing the city, and how would you confront them?
Budget, housing and businesses for jobs and for raising revenue are Basehor's most important issues. They are all tied together, and the council must work to see businesses and families move to Basehor. If the council creates a favorable business climate through tax and property incentives, more businesses will come — families will follow, tax revenues will follow, all to the benefit of the residents of Basehor.
Under what circumstances would you favor increasing property taxes or sales taxes?
I am not in favor of increasing taxes, property or sales tax.
What can the city do to increase economic development?
Hard work, negotiation, and incentives will provide an atmosphere of favorable economic development.
Are you satisfied with the job being performed by the city's professional staff, and why?
I am pretty well pleased with city staff.I know everyone personally, and I believe they're doing their jobs.
How would you evaluate the city council's decisions regarding the city's sewer system and sewer rates, and what would you do differently, if anything?
I do not agree with the city's sewer systems and sewer rates. I feel that if rates needed to be raised, it could have been done at 8 percent per year, or, until housing permits increased. I feel once the housing increases we should look at lowering the rates again.