Basehor City Council candidate questionnaire: Richard Drennon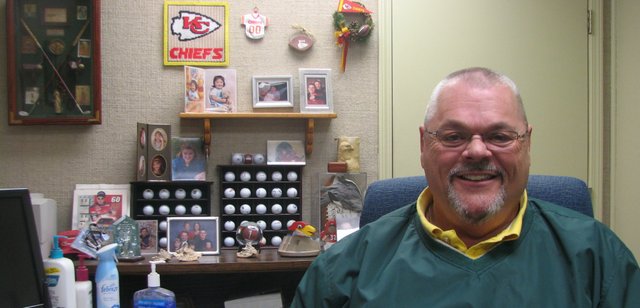 Richard Drennon is one of six candidates running for three Basehor City Council seats in the April 5 election. Below are his responses to a questionnaire distributed by the Sentinel to the city council candidates.
For information on the other candidates and other election details, take a look at the Sentinel's 2011 local election voter's guide.
Biography: Richard Drennon
Age: 56
Family: Married to Debbie for 37 years, two children and five grandchildren
Current employment: Basehor-Linwood USD 458 director of buildings and grounds, 18 years.
Past employment history: Twenty-one years at Sears and Roebucks, nine years as director of event staff for Sandstone Amphitheater.
Education: High school education and some college credits
Number of years lived in community: Basehor city limits 2 ½ years; lived in community for 24 years
Previous public offices held: Basehor-Linwood USD 458 school board
Community involvement: Coached tee-ball at Field of Dreams.
What made you decide to run for election o the city council?
I wanted to get involved in our city's future. Have a say in how we grow!
What special qualifications would you bring to the office?
My construction experience with Sears and USD 458, along with my drive and determination to help make this a great city!
How do you plan to familiarize yourself with the issues that come before the council?
Ask as many questions as I need to find out the information I'm looking for. Search until I'm satisfied I have a good answer!
What leadership qualities do you possess?
I managed the roofing crews at Sears. I was head of event staff at Sandstone, and I'm director of buildings and grounds for the school district.
How do you plan stay in touch with constituents if you are elected?
I would always make myself available for questions or concerns and plan on listening to both sides.
Describe what you see as the main role of a city council member.
I feel the main role is to represent the city and the council in an outstanding way, to help make ordinances and regulations to benefit the citizens of Basehor.
What is the city of Basehor's best attribute, and why?
The school district and our location. Great schools and great updated facilities. Where we are located is a perfect place to go anywhere: shopping, airport, restaurants, etc.
What are the three most important issues facing the city, and how would you confront them?
Tax base, bringing in new rooftops and businesses. They all work hand-in-hand to accomplish the other.
Under what circumstances would you favor increasing property taxes?
I wouldn't unless forced to by no new development. We would have to look at all situations to help elsewhere before I would go that way.
How would you increase the city's tax base?
Help bring in more rooftops and commercial business.
What can the city do to increase economic development?
Again, try to bring in more rooftops and business. The more rooftops, the better chance we have in getting businesses here.
Are you satisfied with the job being performed by the city's professional staff, and why?
Yes! I feel we have moved into the right direction with the staff we have now.
How would you evaluate the city council's decisions regarding the city's sewer system and sewer rates, and what would you do differently, if anything?
After attending some of the meetings, I don't know what all was behind the increase. I know that everyone was upset about the increase, but it's also part of growing pains we all have to go through for us to keep going strong. From what I understand, it was a problem that should have been addressed a long time ago. If addressed a while back, I don't think the increase would have been so high this time. Hopefully, we won't have an increase for a long time.