Braves battle tough early schedule, earn victory against Bishop Miege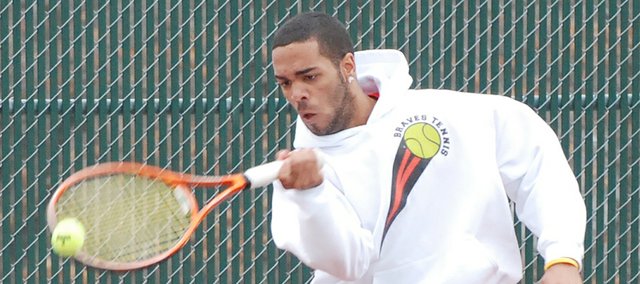 The Bonner Springs boys tennis team was a bit overwhelmed in its season-opener Monday at Gardner-Edgerton when the Braves squared off with GEHS, Blue Valley Northwest and St. Thomas Aquinas, but that's exactly what Bonner Springs coach Bill Scott wanted.
Photo Gallery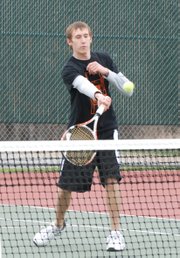 Bonner Springs tennis beats Miege
By Tuesday when the Braves played host to a dual with Bishop Miege, the tough Stags didn't seem nearly as imposing. In fact, Bonner Springs won the dual against the Class 5A power, 5-3.
"This is the toughest we've ever started a season," Scott said. "To start off with those four schools … we won't play four schools like that the rest of the year.
"I never worry about how we're playing in March, and I really don't worry about how we're playing in the first two weeks of April. I'm looking for what I want to do, who's going to be my two singles players and who's going to be my doubles teams, and then try to really peak by the third week of April. I think we're on track to do that."
Scott was happy to see his team make such immense progress in its first two outings against top-tier competition. He knew the Braves would be outmatched on Monday, but he also knew that by seeing the best at the start, every match the rest of the year shouldn't seem so tough.
That's exactly how the Braves handled it. Despite being shut out by Gardner, Aquinas and BVNW, they won a few games during the matches and had some long volleys. They identified small positives they could take, and they had weaknesses exposed.
"The guys took it correctly. They came off (the court) and we talked about it, 'What did you get out of that? What do you need to work on?'" Scott said. "They knew what they needed to work on."
On Tuesday, Scott saw his players put those lessons learned into action against Miege. Jacob Moulin, Cordell Duncan and Lucas Isaacs all earned singles victories. Duncan and Isaacs teamed up for an 8-5 victory at No. 2 doubles, and Tyler Johnson and Ryan Cook earned a 6-1 victory at No. 3 doubles.
Bonner Springs nearly nabbed a few more varsity victories. Johnson turned in a strong performance at No. 5 singles before falling, 8-6, and the No. 1 doubles pair of Moulin and Spencer Bush let a late lead slip away in an 8-7 (7-3) loss.
Overall, Scott saw plenty of progress, and he saw a lot on which to build.
"I think we've got a chance to have a good team because we have so much experience," Scott said. "We've got four seniors that have played all four years, and that's good. That's pretty unusual. And we've got a group of strong juniors."
Bonner Springs was back in action Wednesday at the Mill Valley Invitational. Results were unavailable at press time.