Election Day approaching on Tuesday
Past numbers suggest Basehor voter turnout to be less than 20 percent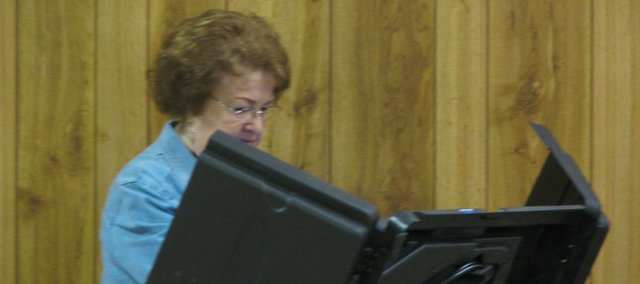 Basehor residents have seen the city council's footprint recently in their monthly bills and at the ends of their driveways.
After decisions to increase sewer rates by 40 percent to address a debt problem and to add curbside recycling for an additional $2 per month, some residents have made their opinions on those issues known at Basehor City Hall.
But if recent history is any guide, fewer than one in five Basehor voters will likely respond to an opportunity next week to shape the Basehor City Council. Three Basehor City Council seats and four Basehor-Linwood school board seats will be up for election Tuesday.
About 18 percent of registered Basehor voters came out to vote in the last two local elections, in 2009 and 2007, Leavenworth County Clerk Janet Klasinski said. Those numbers, a bit higher than the countywide turnout rate, are about normal for a city council and school board election without the draw of an additional ballot question, she said.
Basehor Mayor Terry Hill participated in both those elections, running for city council in 2007 and for mayor in 2009. He said he could not know for sure what turnout would be for the 2011 local elections, but he would be "pleased but surprised" if the rate edged any higher.
"There doesn't seem to be many people actively involved in city government," Hill said.
He said past efforts to increase voter turnout, such as more events involving candidates, had not seemed to do much to spur more Basehor residents to head to the polls.
"I think it's one of two things: It's either satisfaction or ambivalence," Hill said. "It's kind of the same thing."
He guessed that perhaps Basehor voters had not turned out in large numbers because they were mostly happy with the way the city was operating, or at least did not have much to complain about.
The city has received a good deal of feedback regarding the council's decisions on the sewer rate and curbside recycling, Hill said, and that could indicate increased interest from residents. Hill did note that six candidates had filed for three council seats this year, compared with a combined four who filed for mayor and city council in 2009.
Klasinski said a higher number of candidates could indicate increased interest.
"If somebody isn't happy, then they're going to get out there and file," Klasinski said.
Six candidates also filed in 2007, she said. In 2003, an unusually large crowd of 11 people filed for the city council race before a primary election whittled the field to six.
Basehor voter turnout in the 2005 and 2003 local elections was much higher, around 40 percent, but both those elections included ballot questions — a county sales tax question and a state marriage amendment in 2005, and a school bond issue in 2003.
School district officials expect a turnout more similar to the lower rates of recent years, district communications coordinator Kaci Brutto said.
"Parent and patron happiness seems to be at a good level," Brutto said.
Multiple candidates are vying for two of the four school board seats up for election. Incumbent Jeané Redmond will face challenger Larry Harms for Position 1 on the board, while newcomers Jim Peters, Jeff Tindell and Lori Van Fleet will face off for Position 7, the board's lone at-large seat. Dayna Miller is running unopposed for Position 2 on the board, and Eric Dove is running unopposed for Position 3.
In the Basehor City Council race, six candidates will vie for three open seats. The candidates include incumbents Iris Dysart and Bill Moyer and newcomers Fred Box, Richard Drennon, Travis Miles and Robert "Bob" Moore.
Poll information
Polls are open from 7 a.m. to 7 p.m. Tuesday across Leavenworth County.
Voters within the Basehor city limits will be assigned to vote at Holy Angels Catholic Church, 15410 Leavenworth Rd. Fairmount Township voters north of U.S. Highway 24-40 will vote at the Fairmount Township Fire Department station, 2620 N. 155th St., and Fairmount voters south of U.S. 24-40 will go to Glenwood Ridge Elementary School, 17550 158th St.
Advance voting still available
Advance voting in the city and school races remains available through Election Day, Klasinski said.
An application for an advance voting ballot is available on the main page of the county's website, leavenworthcounty.org, under the heading "Election Information." Klasinski recommended that voters print out the form, fill it out and then fax it or e-mail a scanned version to the clerk's office.
The office's fax number is (913) 680-1489. Klasinski's email address is jklasinski@leavenworthcounty.org.
Upon receipt of a voter's application, Klasinski will mail an advance ballot, which the voter can mail or return in person to the county clerk's office in the Leavenworth County Courthouse, 300 Walnut St. in Leavenworth. She said she would accept advance ballots until polls close at 7 p.m. Tuesday.
"We really and truly try to make it as convenient for the folks as we can," Klasinski said.
More coverage
Check out the Sentinel's local election index page for information on the city council and school board candidates.