Return of state veterans has Bobcats optimistic as track season begins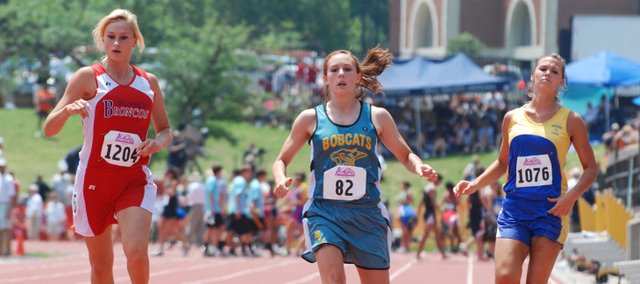 Dakkota Edmonds medaled in a pair of events last season at the Class 4A Track and Field State Championships and is poised for another strong season.
Edmonds placed fourth in the 100- and 200-meter sprints at state as a sophomore. Now a junior, she has even greater expectations.
"She is much stronger and hopes to get back there in both the 100 and the 200, as well as in the relays," coach Steve Hopkins said.
In addition, on the boys' side, Daniel Prioleau made it to state as a sophomore and junior but returned home without any hardware. The senior sprinter would like to close out his career with a state medal this spring.
"He also is providing great leadership in the relays," Hopkins said.
Edmonds and Prioleau led a crew of seven Bobcats to the state meet in 2010 — snapping a string of five straight seasons with just one qualifier — and Hopkins hopes that's only the beginning for his up-and-coming squad.
Only javelin thrower Jay Kraemer and pole vaulter Brian Pemberton graduated from the list of state qualifiers. Joining Edmonds and Prioleau as returning qualifiers are sprinters Rachael Cook, Shelby Equels and Courtney Inlow. They competed with Edmonds in the 400-meter relay.
"Replacing the two seniors will be difficult, but we have hopes to have this many or hopefully more go down to Wichita this year," Hopkins said.
Jesse Hiss missed the state meet as a sophomore in the shot put by only one inch, but Hopkins said Hiss has looked good in practice so far.
"He is throwing well early, but the weather is making it tough to be consistent," Hopkins said.
In girls' competition, Equels hopes to return to state in the relay. In addition, Hopkins hopes Equels can improve her long and triple jump marks and her time in the 400. As one of the Bobcats' most versatile athletes, Equels should be one of the top point-producers at meets throughout the season.
Hopkins said he hoped to see many of the team's new faces make an impact.
"In other events, we are hoping to steadily improve and will not be at full strength until later in the season," he said. "Several athletes were out for girls basketball and are just joining the team. It will take them time to get ready for meets."
Basehor-Linwood is working on conditioning and finding events for new athletes to compete in.
"The weather is a struggle for everyone, but our new facilities are spectacular, and as the weather has warmed up and dried out our practices have improved exponentially," he said.
Basehor-Linwood will play host to the Bobcat Relays on April 8.
"We will fill nearly every spot and hope to compete for a top-three finish," Hopkins said. "After that meet, we will point to regionals."
Basehor-Linwood opens the season at 3:30 p.m. Friday, April 1, at the Baldwin Invitational and then competes again at 4 p.m. Tuesday, April 5, at the Lansing Invitational.