BLHS

honors seniors with awards, scholarships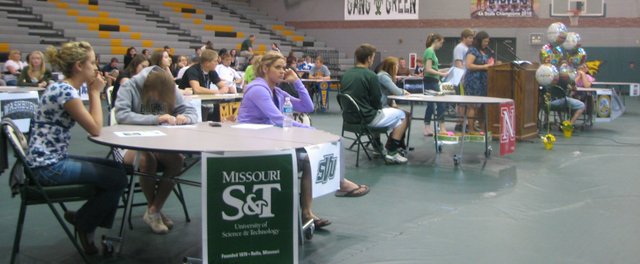 Basehor-Linwood High School honored the achievements of its graduating seniors in two ceremonies last week.
On Wednesday, April 27, the school honored the recipients of a total of $47,200 worth of local scholarships in an evening ceremony.
Then in an assembly during school Thursday, April 28, students were honored with academic awards, and 105 students — representing 78 percent of the senior class — who have committed to colleges and universities signed letters signifying their intents.
Below is a list of seniors honored with awards and scholarships:
ACADEMIC AWARDS
Principal's Leadership Award: Trent Smith
Outstanding student in math and science, from dean of engineering at Kansas State University: Bryce Garver
Certificate for Exceptional Academic Performance from Kansas Board of Regents: Bryce Garver
Dale Dennis Excellence in Education Award: Jessica Farris
KSHSAA Citizenship Award: Owen Lewis and Emily Lynch
KSHSAA Award of Excellence: Macyn Sanders and Caleb Johnson
Acceptance into the Kansas State University Architecture program: Spencer Scherer and Brent Higgins
Governor's Scholar Award: Austin Stubbs and Emily Knapp
National Merit Commended Scholars: Leo Budy and Genevieve Brown
Kansas ACT Scholar (for a score of 32 or more on the ACT): Bryce Garver
Prudential Spirit of Community Awards: Destry Bryan and Molly Whipple
Kansas Designated State Scholars: Genevieve Brown, Jessica Farris, Bryce Garver, Courtney Inlow, Caleb Johnson, Emily Knapp, Emily Lynch, Emily McDowell, Shelby McGhee, Abbey Stallbaumer, Austin Stubbs, Molly Whipple
SCHOLARSHIPS
ABLE Scholarship ($1,000): Shelby McGhee, Emily Knapp
Alpha Delta Kappa Scholarship ($700): Caitlyn Clark, Jimmy Goss
Basehor Chamber of Commerce Scholarship ($1,000): Hannah Kenton
Basehor Lions Club Scholarship ($700): Hannah Kenton, Spencer Colvert
BLHS Booster Club Scholarship ($500): Bryce Garver, Jessica Farris, Abbey Stallbaumer, Hannah Kenton
Basehor-Linwood Middle School Booster Club Scholarship ($500): Brittany Laney
Basehor-Linwood Education Foundation Scholarships —
$1,000: Courtney Inlow, Emily Lynch, Jessica Farris, Emily McDowell, Macyn Sanders, Molly Whipple, Melissa Seaman, Hannah Kenton, Austin Stubbs, Bryce Garver, Steyr Stubenrauch
$500: Brittany Laney, Evan Theno, Spencer Scherer, Abbey Staullbaumer, Miles Brown, Reba Lillich, Brent Higgins, Megan Bergstrom
$500 for technical school: Austin Walker, JoAnna Verbenec
Basehor-Linwood soccer ($500): Cameron Harvey, Melissa Seaman
Bittell Family Scholarship for Math and Science ($500): Alex Powell
BLHS Student Council ($500): Jessica Farris
Care Cats/YouthFriends Corps & National Points of Light ($500): Emily Lynch, Destry Bryan
Community National Bank Scholarship ($300): Spencer Colvert, Kaitlin Allen, Wyatt Kelly
Easton Bus Company Scholarship ($500): Misha Martinez
First State Bank & Trust ($750): Shelby Equels, Caleb Johnson
Joshua Gaffney Memorial Scholarship ($500): Caleb Johnson, Brittany Laney
Gold PRIDE Scholarship ($500): JoAnna Verbenec
PRIDE Scholarship ($500): Zak White
Kiwanis Club of Basehor ($500): Abbey Stallbaumer, Brittany Laney
Linwood Lions Club Scholarship ($1,600 over four semesters): Abbey Stallbaumer
Lou Haney Memorial Scholarship ($1,000): Caleb Johnson
Pleak Family Scholarship ($500): Trent Smith
Thomas E. Lorance General Business Scholarship ($300): Destry Bryan
Union Bank & Trust Scholarship ($500): Molly Whipple
Ward L. Kiester II Memorial Scholarship ($600): Owen Lewis
New Century Club ($500): Sam Tady