City council weighs possible tax break offer to attract new Wolf Creek retailer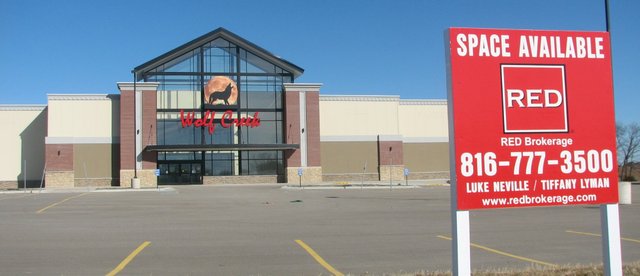 Mark Loughry hears the question frequently from Basehor residents, he said: What's the city doing about that empty grocery store building?
To give the city more of an answer to that question, the city administrator suggested at Monday's Basehor City Council work session that the city could establish a public set of available tax incentives that could help draw a retailer to the empty former Wolf Creek Marketplace building north of U.S. Highway 24-40.
After council members said they would be willing to look at proposals for such a package of tax breaks, Loughry said he would present some possibilities at another work session in the near future.
City staff already is working with First National Bank of Olathe, the owner of the property, in its efforts to sell the building, Loughry said, but an established set of available incentives could help the bank do more to attract a new tenant.
"As they're marketing that building, it's something that they can put in their package so when they talk to a potential tenant, they can say, 'If you can do this much business, the city would be willing to offer you these kinds of incentives,' " Loughry said.
Loughry made a similar proposal to the council in March when he said the bank was negotiating with a possible new tenant — not a grocery store — for the building. Though that group backed out of negotiations, Loughry said the offering of an incentive package could help the bank in its marketing of the property.
At that March work session, some council members said they had concerns about offering incentives outside of a negotiation process with a single group, and about offering so many tax breaks that a new tenant would not help the city's bottom line.
Mayor Terry Hill echoed those concerns at Monday's meeting, saying it was difficult to offer incentives without knowing the specific financial situation of a potential tenant.
"It's really hard until we're trying to close a gap that we know about," Hill said.
But Hill also said he wanted the city to figure out some way to encourage another retailer to move into the building in order to spur further development in the Wolf Creek area.
"They're not going to build a new Burger King next to an empty building," Hill said. "We have to get that thing occupied."
Loughry said the city could choose between offering an incentive package strictly for the Wolf Creek building or offering tax breaks to any business that moves to Basehor and generates a certain amount of sales taxes. Council member Travis Miles suggested that the city could create a sliding scale, offering bigger tax breaks to businesses generating more taxes.
Also at Monday's work session, the council:
• Considered a possible new ordinance that would regulate door-to-door soliciting. The ordinance would require solicitors to acquire a two-week permit from the city and to go door-to-door only between 10 a.m. and 6 p.m., and it would prohibit them from going to residences that have "No soliciting" signs posted.
• Discussed the city's new IT services contract.
• Discussed requests from city staff for a new tack cart (a machine used to seal road cracks), a new police patrol car and a pickup truck for use by the planning department.