Imp expands to Lawrence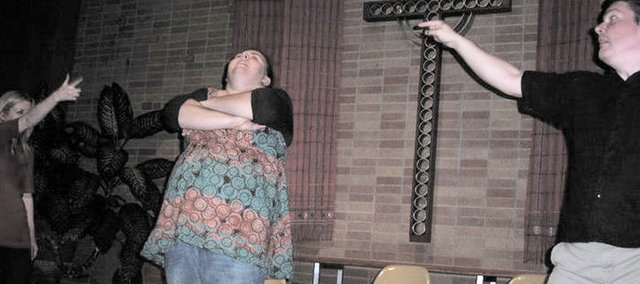 Roving Imp Theater and Coffee House owner, John Robison, is expanding his business, and not just in Bonner Springs.
Since April, Robison has been offering one workshop and one improvisational performance every Thursday at the Ecumenical Christian Ministries building on the Kansas University campus in Lawrence.
"I guess I decided that I wanted to do it just after our (Tiny Group Festival) ended in February, and I really wanted to expand," Robison said.
He said the decision to move to Lawrence was natural for the Roving Imp "because I think the people in Lawrence are just as off-beat as we are around here."
Robison said he discovered the ECM building through Roving Imp performer Harrison George, Emporia, who suggested Robison check out the ECM website. The building serves as a place of ministry for KU students and Lawrence community members, as well as an available space-for-rent for community programs and events.
Robison's workshop goes from 6:30 to 8:30 p.m., and he says he modifies each class to fit any participant's improv experience level, from beginning to advanced. After a half-hour break, the show begins at 9 p.m.
Robison says, so far, there has been more interest in his workshops than the performances, but he's not worried.
"We've gotten a lot of people come to the class so far," Robison said. "Shows have been small so far, but shows here (in Bonner Springs) were small when we first started, as well."
Robison said the expansion has given him an opportunity to introduce more people to the craft of improvised acting.
"Well, being in Bonner Springs, there are only so many people that are going to be interested in this sort of thing," Robison said. "And so having, I guess, a satellite location is going to help spread the love of improv and help us find more audience and more actors."
The future dream, of course, is to one day move the workshops and performance into a permanent "Roving Imp Two" kind of home in Lawrence, Robison said.

"Real estate's a little pricier in Lawrence than it is here, so it may not happen for a while, but I would love that," he said.
Though Kansas City is also just around the bend, Robison says he's not tempted to expand into the bigger city — not yet, anyway.
"There's already a lot of improv groups in Kansas City and there's not so much of a core population (like KU) that can easily be marketed to," Robison said. "… People in college are trying new things and they have energy to stay up late and so I really think that Lawrence is definitely where I'm going to focus for a while. Nothing against Kansas City. I love 'em. They've got plenty of improv already."
Workshops are $15 and interested participants should call Robison at (913) 441-2309 prior to the workshop to make sure space is available. Tickets for the show, which are $5, can be purchased at the door.
The ECM building is at 1204 Oread Ave., Lawrence.