New Basehor Community Library director moves into dream building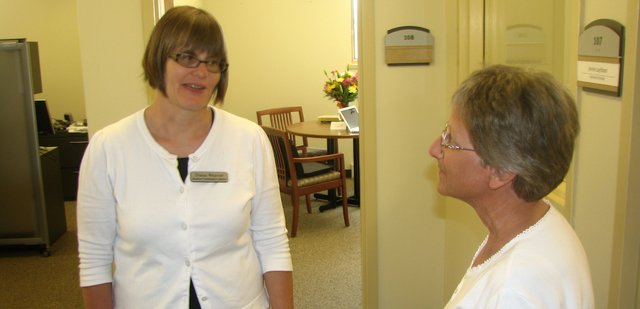 Diana Weaver remembers what she said to a friend by her side when she walked into the new Basehor Community Library building for the first time, the day it opened.
"I said, 'When I grow up, I want to be at this library,' " Weaver said.
Her friend remembered that day, too, and when the director job at the Basehor library opened earlier this year, she asked Weaver if she was ready to "grow up" yet.
The answer was evident Monday. Three years after marveling at the building on its opening day, Weaver was receiving an introduction to some of its finer points on her first day on the job as director. Outgoing director Carla Kaiser brought Weaver up to speed on the building's elevators, air-conditioning system and more nuts and bolts as she prepared to hand over the keys for good.
"I might let her go in a month or two," Weaver joked, but Kaiser actually will leave for retirement on Friday, ending her 26-year career as director and leaving Weaver at the helm.
And she feels ready, and lucky, to take over, she said.
"I feel so blessed to be here, because Carla has done all the hard work, built this beautiful library," Weaver said.
But she said she's prepared to continue the library's development, using its website and other services to make it an informational hub and resource for the Basehor area.
"Five years from now, who knows what it's going to be like?" Weaver said of the library.
Her career path has seen as much transformation as the library has in the recent past.
Like Kaiser did, Weaver entered the library profession before she had any education or training in the area, but she has received plenty since.
She started her library career by volunteering for children's storytime programs at the library in the town of Arlington, about 20 miles southwest of Hutchinson. After her children left the house, at age 40, she decided to enter college. She graduated from Kansas University, then earned a masters degree in library and information sciences from the University of Illinois.
After working for the Northeast Kansas Library System in Lawrence, she became the director of the Atchison Public Library about two years ago.
Claudia Bosshammer-Bilimek, now the interim director at the Atchison library, said Weaver would be missed there. She helped reorganize the library's layout, worked to attract grants and donations and encouraged her staff to grow and develop, Bosshammer-Bilimek said.
"She was a real pleasure to work with, and I'm real glad that we had her as long as we did," she said.
The library's board of trustees conducted the search for a new director starting in January, with help from Kaiser. Tammy Potts, a member of the board, said the library received more than 30 applications from around the country, and several strong candidates made it a tough choice.
But what stood out about Weaver, she said, was her history of organizing projects and events that incorporated organizations and people from the community, as well as her ideas for moving into the future in a time when libraries can no longer afford to be simply a place to find books.
"We were looking for someone who could really lead us into the next generation," Potts said, a goal toward which the library has already made good progress.
Potts said a public welcome event would be planned for Weaver in June, to coincide with the beginning of the library's children's summer reading program.
Weaver said Basehor differed from her previous city, Atchison, in that it is less self-contained — residents frequently travel to other nearby communities for work and other purposes. But she said she'd found residents eager to create a community identity, and the library could help with that process.
"The library has the opportunity to really be the community focal point," she said.
To learn more about Diana Weaver, see this week's "Neighbors."