Strong start, rough finish for Braves at
BFMBC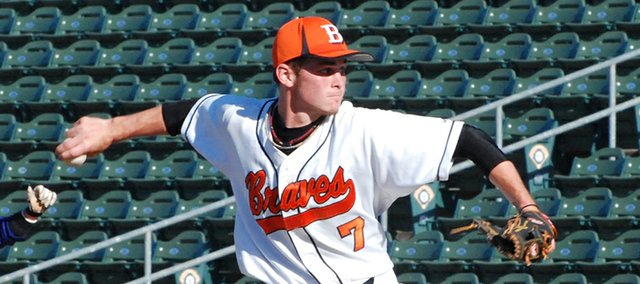 Kansas City, Kan. — Bonner Springs opened the Butch Foster Memorial Baseball Classic with a statement victory against Paola, but the final two games were mostly forgettable for the Braves.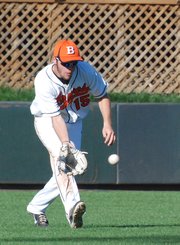 After digging a nine-run deficit in a 12-8 loss to rival Basehor-Linwood in the tournament semifinals Friday, the Braves were routed 15-0 by Spring Hill in the third-place contest Saturday at CommunityAmerica Ballpark.
"Thursday night we're on the peak of the mountain. Tonight and yesterday we're at the bottom of the valley," BSHS coach Barry Richards said. "It's just the way the game works, but also our execution and our mental state didn't seem to be where it needed to be for both games."
The third-place game started well enough for the Braves as they took advantage of a walk and a hit batter to put two runners aboard in the top of the first, but they were unable to score. Starting pitcher Dalton Vitt then worked out of a jam in the bottom of the inning and kept the game scoreless.
BSHS put another runner on base via a walk in the second inning but didn't score. Then Spring Hill took control. The Broncos used two singles, a double, a walk and a dropped fly ball by BSHS to plate four runs.
Mistakes continued to snowball for the Braves in the third inning. Spring Hill sent 15 batters to the plate. Vitt and Brett Hammons both spent time on the mound, but neither had much success as Spring Hill pounded six hits and took advantage of two walks, two hit batters and three defensive errors by the Braves. The Broncos scored 10 runs in the inning and then plated one more in the fourth to complete the run-rule victory.
A third-inning double by Shawn Jones was Bonner Springs' lone hit.