Barbecue, festival under way this weekend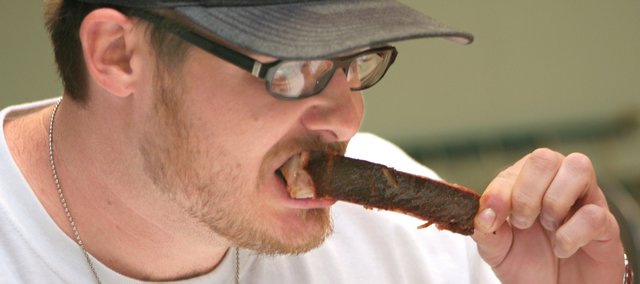 A weekend full of activities in Lansing begins today with the seventh annual Brew, Blues, and Bar-B-Q Cook-Off followed by the 2011 Lansing DAZE Festival.
The annual barbecue contest, which draws barbecue enthusiasts from around the region, opens Friday, May 6, and runs through Saturday, May 7. Thirty-six barbeque teams are scheduled to compete during the event. A People's Choice event (open to the public) is scheduled for Saturday. This year's event will feature Kansas City blues/RandB sensation Mary Bridget Davies, who will perform at 7 p.m. Friday. At 11 a.m. Saturday, Southern Reign will perform.
The 2011 Lansing DAZE Festival will take place on Saturday, May 7 and features a variety of family-friendly activities. The festival includes a craft show, car and cycle show, children's inflatable rides, art show, and pancake breakfast sponsored by the Lansing Kiwanis. The children's inflatable rides will be available Friday evening.
Food and beverage vendors are available both days. Admission to both events is free. All events, with the exception of the pancake breakfast, will take place at Eisenhower Crossing. Parking is available at Eisenhower Crossing and the Eisenhower Medical Plaza.
Here's the schedule:
Friday, May 6
• 6 p.m. to 9:30 p.m.: Children's Inflatables, games, and rides (tickets or wristbands available)
• 7 p.m. – 11 p.m.: Blues band – Mary Bridget Davies
• Approximately 9:30 p.m.: Fireworks show
Saturday, May 7
• 7 a.m. to 11 a.m.: Lansing Kiwanis Pancake Breakfast – Lansing High School
• 9 a.m. to 4 p.m.: Craft, commercial and non-profit booths, Lansing DAZE car and cycle show
• 10 a.m. to 6 p.m.: Children's inflatables, games, and rides
(tickets or wristbands available)
• 11 a.m. to 2 p.m.: Local band - Southern Reign
• 11 a.m.: People's Choice competition – come sample great barbeque and cast your vote!
• 3:30 p.m.: Barbeque competition awards ceremony
For more information, contact the Lansing Convention and Visitors Bureau at (913) 727-5488 or cvb@lansing.ks.us.