2011 Basehor-Linwood graduates look back, ahead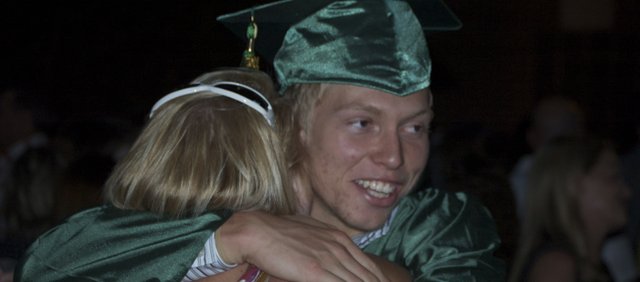 Photo Gallery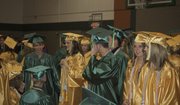 Basehor-Linwood High School 2011 commencement
Basehor-Linwood High School awarded diplomas to 150 graduates on Thursday, May 12.
The Basehor-Linwood High School class of 2011 cheered its past accomplishments and its future possibilities Thursday night at the school's commencement ceremony.
After the BLHS orchestra played in the graduating seniors with "Pomp and Circumstance," Basehor-Linwood superintendent David Howard gave some practical advice to the soon-to-be graduates in his brief welcome: develop a firm handshake, always make eye contact and build positive relationships.
Principal Sherry Reeves, in her address, listed the accomplishments of the class of 2011, including earning more than $1 million in scholarships combined. But she also recalled, to laughs from the audience, an event from the day before that she said gave her something to remember about the graduates: when she came in on the morning of the senior check-out process to find her office filled with shredded paper and helium filled balloons in a prank.
"For me, I will always have a special place in my heart for the class of 2011," Reeves said.
After a recognition of students who finished in the top 10 percent of the class, the BLHS mixed choir sang "Omnia Sol."
Seniors Emily Lynch and Macyn Sanders, the winners of a class-wide competition, delivered a senior address, in which they remembered the four years of high school their class had shared and the faces they would miss after they had each moved on to new phases in their lives.
For more on the graduation of the BLHS class of 2011, check next week's online and print editions of the Sentinel.