Bobcats' Vlasic takes 5th at
KVL

Championships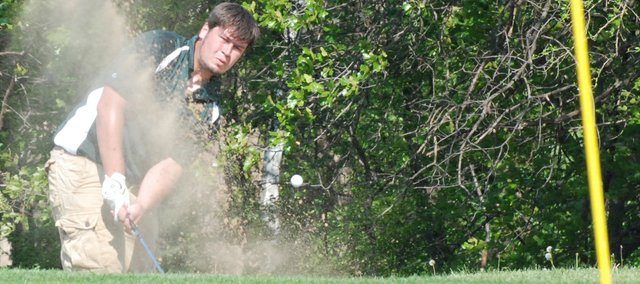 Bonner Springs — Every time Gabe Vlasic has stepped on the golf course this spring, the Basehor-Linwood standout has been locked in.
His focus on every blast off the tee, every chip and every putt has remained the same, utilizing a "one stroke at a time" mentality to produce a low score.
Vlasic was back in the zone at the Kaw Valley League Championships Monday at Sunflower Hills Golf Course. He was consistent with a 41 on the front nine and a 41 on the back nine for a round of 82 — good for fifth place and medalist honors.
"Gabe is a tremendous worker," BLHS coach Bruce Courtney said. "He's just got great work ethic. Starting probably the end of last year he just made a commitment that he wanted to be better. He went to the extent of getting a job at a golf course, and he's just been turned on to golf.
"He has a wonderful time being a part of the game. He enjoys it, and with that enjoyment it sure makes it easy for him to work hard and concentrate and do what he wants to do. He's done that every day."
Basehor-Linwood practices twice a week at Sunflower Hills, so Vlasic knows the course well. Still, he and the other golfers had to contend with strong winds and the hottest day of the year as temperatures surged into the 90s.
Through it all, Vlasic was unfazed. Only four golfers shot better scores. Tonganoxie's Colby Yates won the league title with a 77, Tonganoxie's Tanner Hale was second with an 81 and Piper's Nick Calovic was third with an 81.
Tonganoxie won the team title with a four-player score of 323. Piper was second with 344, and Bonner Springs finished third with a 368.
Basehor-Linwood placed fifth with a 372, losing a tiebreaker with Turner that was determined by the fifth player's score.
The Bobcats had one of their best overall team performances of the season Monday. Bret Fritz shot a 92, Alex Otting had a 94 and Brady Blackwood shot 104. Both Caleb Johnson and Neal Dickinson shot 105.
"This has been our first real warm day; they're playing on a course that's long with a lot of walking, a lot of ups and downs, and they're fighting the wind," Courtney said. "It's definitely a step in the right direction for those guys. That's what we need."
The Bobcats next compete in the Class 4A regional tournament at 11 a.m. Monday at Dub's Dread Golf Club in Kansas City, Kan. Interestingly, that happens to be the same golf course where Vlasic worked during the summer.
"We're hoping that the stars are aligning," Courtney said. "That's what we're hoping for with it being there this year. When we first found that out, Gabe was probably the first one to be excited about it. Of course you still have to go out and play the game, and you have to play against the course and the conditions and the other golfers. He's definitely got his work cut out for him, but he's up to the challenge and he's really excited about it."
Other schools in the regional are Bonner Springs, De Soto, Piper, Bishop Ward, St. James Academy, Louisburg, Paola, Spring Hill and Tonganoxie. The top two teams and the top five individual scores from non-qualifying teams advance to state.