City to have homestyle cooking sisters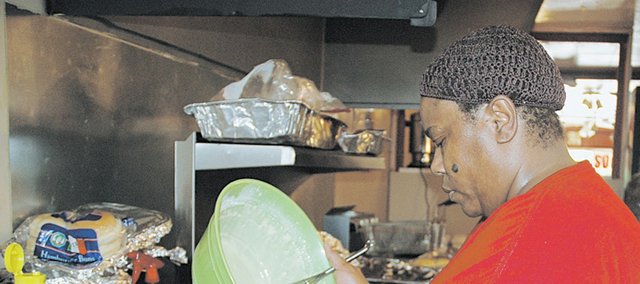 Nu Nu's Cafe
Nu Nu's, 104 S. Fourth St., is open from 8 a.m. to 7 p.m. Monday through Saturday. Carryout, catering and delivery are also available. Call (913) 422-7040 for details.
With the efficiency of a well-oiled machine, Karen "Nu Nu" Harris whips up some batter in a mixing bowl, adds a big squirt of honey, pours the batter into a spray-greased muffin tin and neatly slides the tin into the oven.
In about 15 minutes or so, the result of her labors will be rows of warm, fresh, homemade cornbread honey muffins — a feature of the day's menu at Nu Nu's Café, a small-but-cozy restaurant specializing in home-style cooking. Harris and her sister Glenda Groves opened the restaurant May 2 in downtown Edwardsville.
From the way Harris handles herself as she mixes and pours, it's immediately apparent that she's been around a kitchen more than a few times. In her case, however, she's spent much of her life in a kitchen. Her mother died when Harris was young, but not before she gave Harris a few lessons in preparing the meat and potatoes kind of fare Harris herself would later serve her new customers at Nu Nu's.
"Well, my mother taught me a lot from watching her, 'cause I was the oldest child so then I learned how to fry chicken and then mashed potatoes and corn … I just watched, and then when she passed away, I learned," said Harris, who is now 57.
She noted that after her mother's death, she took on the responsibility of helping her father raise two younger sisters and three younger brothers. "So (my siblings) were guinea pigs, and if they didn't complain, then I think I did OK," she said.
Though 10 years younger than Harris, Groves eventually started helping her sister with cooking "certain dishes," like baked beans or spaghetti, for the family dinners. The two sisters worked so well together they later began catering events through their church, Christ Outreach Ministries in Edwardsville. Groves is a co-pastor of the church with her husband, Hayden Groves.
A frequent reaction from their customers through 14 years of catering, they said, would be, "You guys need to open your own restaurant," Groves said.
So it might have been a blessing in disguise in December 2010 when Harris got laid off from her full-time job working in collections for NCO Financial. She says that was the push she and her sister needed.
"… Always, I wanted to open a restaurant and then, when I lost my job in December, I decided to fulfill my dream," she said. "Just go ahead and do it."
After months of phone calls, the sisters were able to lease the building formerly occupied by Pizzaville, which closed in August 2010. Now their menu includes everything from breakfast items, like biscuits and gravy and bacon and egg,s to fried chicken dinners with a range of side options: green beans, cheesy corn, baked beans, mashed potatoes, macaroni and cheese, and the list goes on. Daily specials include meatloaf on Mondays, tacos on Tuesdays, hot or regular fried wings on Wednesdays, homemade pizza on Thursdays and a fish fry on Fridays.
But Harris and Groves say that menu was subject to change, and they wanted their customers to help them change it. Each customer will have a chance to write down on a customer suggestion card what they would like to see on the Nu Nu's menu, Harris and Groves said.
Their intentions are to meet those requests the best they can. Their formula is simple: Hold onto business by giving customers what they want.
"We try to accommodate what they like to eat," Harris said. "That way, they'll come back and eat it."
It should be noted, of course, that both Harris and Groves have somewhat well-known names — or, in the case of Harris, nicknames. The name "Nu Nu" was given to Harris by her grandchildren, who likened her to the character of "Noo-Noo" from the popular children's television series, "Teletubbies."
Groves is married to the great-grandson of Junius Groves, a former slave who became a prominent member of the Edwardsville community in the early part of the 20th century.


Harris and Groves hope to honor the Groves name through their future plans for the business: To open a community development center, called the Groves Center, in the space above Nu Nu's, which the sisters have also leased. The center will be similar to Vaughn-Trent Community Services in Bonner Springs, in that it will assist low-income families with utility, food and job placement assistance, as well as other resources. The sisters will essentially be bringing back the former Groves Center, Glenda Groves said, which was opened by Junius Groves himself many years ago.
Harris and Groves say with a little remodeling and construction of the space, and through the donations they have already received, the Groves Center should be up and running by summer's end.
"It's just to me because, for one, there's nothing in the (Edwardsville) community that offers that," Groves said of why she wanted to bring back the Groves Center. "It'll be something that, you know, if we need to service the customers, it's local, it's convenient for the customers and just to let the customers know there's someone that cares."
For now, Nu Nu's customers can expect as much of a home-cooked meal as they can get through a restaurant, Harris and Groves said. And best of all, Groves added of one of Nu Nu's most popular menu items thus far, "(We sell) biscuits and gravy all day until they sell out."
Nu Nu's, 104 S. Fourth St., is open from 8 a.m. to 7 p.m. Monday through Saturday. Carryout, catering and delivery are also available. Call (913) 422-7040 for details.