New men's group forms in Bonner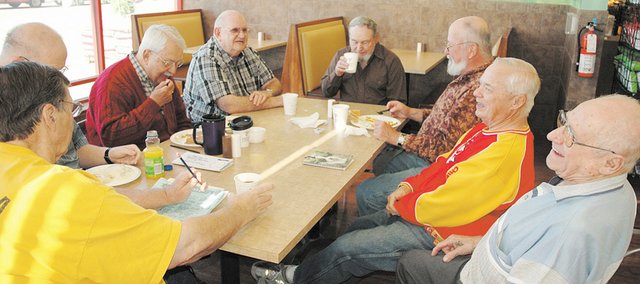 The group of men gather around the table in the grocery store eating area, finding all sorts of topics to discuss.
For example, Buzz McGowan and Ed Mellott, both military veterans whose fathers also served during World War II, swap stories of their fathers and talk about different military ships, planes, cars and equipment as others chip in with their two cents. This eventually leads to a discussion of how far away a horizon is.
Eventually, they get back on task: organizing outings and future meetings for their new men's group through the Bonner Springs Senior Center.
The men joke that they only started the group a couple of months ago because Tina Ashford, center director, told them to do so. But they seem to be attacking the task with gusto and having a good time while doing it.
They are working to make sure the group attracts more members and keeps going strong.
"They tried this before, but nobody would go to it," Howard Reitzel commented.
"The whole senior (center) thing, I think, is just a well-kept secret," Larry Hitchcock added. "People don't really know — they have ideas, but more fears that 'Oh, I don't want to get involved in something, I'll just get roped into this, or roped into that.'"
And they know that at the Bonner Springs Senior Center, the women have a tendency to take over. They don't mind the female domination, but there's something about getting together with just the guys, so the men hope their group can fill that need.
"So many times I've gone up there and been the only guy there," Hitchcock added. "If we can find some things and get to do some things so we can get some more guys involved, that's the key."
The problem to getting more members is a lot of the husbands of women who take part in the senior center are either still working or aren't in good enough health to get out of the house often, Hitchcock said.
The group thus far has had a few outings, such as the Baseball Hall of Fame and World War I Museum in Kansas City, Mo. Starting last month, they've had a few morning coffee and breakfast get-togethers at the Bonner Springs Price Chopper.
In the future, they're thinking about tours of the Boulevard Brewing Company, Fort Leavenworth, the Kansas Speedway and the Nelson-Atkins Museum of Art. They're also discussing a fishing trip or a T-Bones game, as well as accommodating those who would just like to meet up for lunch every now and then.
Anyone interested in joining the men's group can contact the senior center at 441-0169.