The next chapter:
BLHS

seniors prepare for life after high school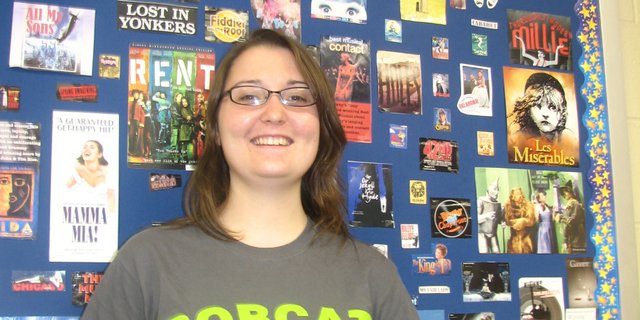 Basehor-Linwood High School commencement
• 7:30 p.m. Thursday in the BLHS gym
• Overflow seating in auditorium across the hall, with live video feed
• Doors open at 6 p.m.
Editor's note: Tonight, 133 Basehor-Linwood High School seniors are scheduled to receive their diplomas during the school's commencement ceremony.
This summer and fall, those graduates will head off on a variety of different paths. Some will stay close to home; others will go far away. Some will continue their education, some will begin careers, and some have other plans.
Below, the Sentinel profiles some of the faces of the BLHS Class of 2011 and the paths they plan to follow.
SKY MORRELL
With an enrollment form in her hands as an eighth-grader, Sky Morrell set her life on a course that would send her about 1,200 miles away four years later.
"'Huh, well, I kind of want to be an actor, maybe,'" Morrell says she thought as she pondered which elective courses to take during her freshman year at Basehor-Linwood High School. "'I'll take drama.'"
Now Morrell, who will graduate from BLHS today, will in a few days leave just about everything she's known and move to the East Coast in pursuit of her dream of a career as a film director, thanks partly to that decision.
She'll be enrolling at Central Connecticut State University in New Britain, Conn., in the fall, traveling farther for college than any other BLHS senior who had committed to a school as of last week. She can try her hand working on musical and stage productions there, pay in-state tuition thanks to her grandparents' nearby residence, and perhaps most importantly, she'll be about two hours from New York City, a much more likely jumping-off point for a film career than anywhere near home.
For Morrell, the decision to leave isn't about getting away from where she's been; it's about chasing her aspirations.
"That's what's best for me," she said. "That's how I could get to my dream. I couldn't get to it staying here. It wouldn't be logical."
At the time she filled in the blank on that enrollment form four years ago, Morrell couldn't have imagined pursuing a role so heavy on self-expression and leadership, she said.
"I was just more introverted," Morrell said. "I wouldn't talk a lot. Now I definitely talk a good 800 kilowatts a day."
She still spends some time alone, playing video games or reading comic books, but she also feels comfortable shouting directions for performers onstage or delivering a monologue. It was not long after she enrolled in teacher Rebecca Knowles' drama, debate and forensics courses that she learned to open up more, she said.
Knowles, though, said Morrell never struggled with speaking up.
"She always had that confidence there," Knowles said. "She just became even more confident, I would say."
The confidence she gained as an assistant stage manager for this year's school musical, "Seussical," helped convince her that she could one day direct performers and make movies, Morrell said.
"I was like, 'I can do this,'" she said. "'I can direct people. I can tell people what to do.'"
She can't pretend she's not scared, though, to leave Kansas. Her whole life has revolved around the school and her friends and teachers there, she said, as she has filled her time by participating in the international club, forensics and debate, the Gang Green pep club, the school newspaper and Science Olympiad, along with theater.
"There's probably something else, but I'm forgetting it," she said, laughing. "I do too many things."
So leaving her boyfriend, friends, mentors and others behind is frightening, Morrell said. But she has a plan: go to school in Connecticut, head from there to New York, and possibly Hollywood afterward. She may start out working on horror movies, she said, but she wants to make fantasy and science fiction films.
And Knowles said she wouldn't bet against Sky.
"I think it's a great opportunity for her, and it's what she wants to do," Knowles said. "I think she'll succeed at whatever she puts her mind to, quite frankly."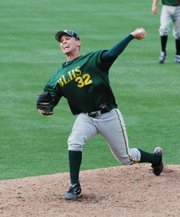 AUSTIN STUBBS
When Austin Stubbs was 9, his parents told him that if he earned a full-ride scholarship to college, they'd buy him a brand new car.
Nine years later, he has fallen short of that mark — but just barely. Only three of his four years at the University of Nebraska in Lincoln will be paid for in full after he earned about $75,000 in scholarships.
His parents are standing firm on their requirements, because he'll have to pay for part of his freshman year. But Stubbs, who will graduate from Basehor-Linwood High School today, isn't angry that years of devotion to academics, and a 4.0 grade-point average, won't quite deliver him that shiny new vehicle.
"I think it's been worth it," Stubbs said. "It's developed me to work hard in life."
And work hard he has, he said, devoting big chunks of his time during high school to two things.
"It's been a lot of sports and academics," he said.
On the sports side, the 6-foot-3 left-hander has spent three years on the varsity baseball team as a pitcher and first baseman and two years as a forward on the varsity basketball team.
And in the area of academics, he's racked up 37 hours of college credit by taking advanced courses — enough to make him start college classified as a sophomore, if all the credits transfer — while maintaining a 4.0 GPA.
For his balancing act, he credits good time-management skills and a desire to keep moving and keep doing.
"I don't really like to have time on my hands and just be sitting around," Stubbs said. "I like to be active and just have something to do."
He'll stay active at Nebraska, where he's going because he's always enjoyed visiting family in Lincoln, Neb., he said. He will be a member of the Army Reserve Officer Training Corps program there. The ROTC will pay for three of his four years of school after he received a scholarship offered to only 10 to 15 students per year.
"I thought it was kind of a longshot," Stubbs said.
For someone who kept himself busy during high school, the extra leadership courses and physical fitness programs required won't be an issue, he said.
Before he begins his required four years of military service, he said, he hopes to enroll in dental school, for which the ROTC would also pay, and become an orthodontist after he returns from his service.
He's had his eye on a career in orthodontia since he watched braces transform his crowded bottom teeth in sixth grade, he said.
"People can change their whole perspective with just a better smile," Stubbs said.
Earlier this month, Stubbs was recognized as a Kansas Governor's Scholar for finishing in the top 1 percent of his class. He said his work ethic would stick with him as he moves on.
"I think that if you work your hardest," Stubbs said, "then some good things are going to happen for you."
KAITLYN COULTER
Kaitlyn Coulter will tell you she does things her own way.
On Wednesday morning, she walked barefoot through the halls of Basehor-Linwood High School as she completed the pre-graduation check-out process. She said it wasn't the first time she'd come to school barefoot.
Several classmates greeted her as "Rainbow," a nickname she has earned because of her color-changing hair. This year it's been electric blue, purple and pink at different times.
And Coulter, who graduates today from Basehor-Linwood High School, will also be doing her own thing next year. While many of her classmates will be in college or perhaps starting careers, she'll be across the world in Shenzhen, China, where she'll be spending a year as a au pair, teaching English to a young girl named Zoe.
After that experience, she'll be heading back to the United States to start college at Bowling Green State University in Ohio, to where she was attracted because of the school's international studies program.
"I wanted a year off between high school and college," Coulter said, "because I'm tired of school."
Coulter has lived in Linwood since fourth grade, when she moved there with her mother and sister. She was looking for a different experience after high school, she said, and she'll find that in Shenzhen, a city with a population of about 9 million. She started researching international au pair programs in October, put in an application with the HHS International Cultural Exchange Center in December and, after four different interviews, began video-chatting with her future host family via Skype.
"They think I'm hysterical," Coulter said, partly because of the ever-changing hair.
At BLHS, Coulter has been the captain of the school's scholars' bowl team, competed in Science Olympiad and participated in mock trial, while also working about 40 hours per week at Subway.
She will be many miles away from those experiences by the end of May when she leaves for China, though something familiar will be coming with her: Her mother, a teacher in the Kansas City, Kan., school district, will go to the same city to teach English to Chinese adults.
"I tried to run to China, and I couldn't get away," Kaitlyn joked.
Though the idea to head overseas was sparked by a desire to take a break from school, she said she hopes to use the experience living overseas and her education to work in a foreign embassy someday, working to improve the perception of the United States.
"If I can get a flair for the international while I'm only 18, it can help," she said.