Prioleau continues to sizzle in sprints as
BLHS

boys place 2nd at Piper Invitational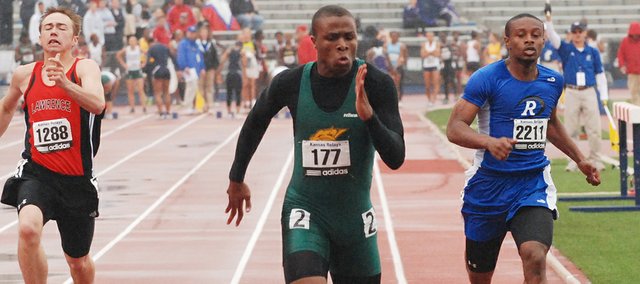 Basehor-Linwood runner Daniel Prioleau continues to sprint past the competition in his senior season.
He won the 100- and 200-meter dash Friday at the Piper Invitational, leading Basehor-Linwood to second-place finish in the team standings.
Piper won the meet with 133 points, and Basehor-Linwood finished second with 117.5.
BLHS coach Steve Hopkins said the performances indicated that Prioleau is maturing as a sprinter.
"Daniel ran really smoothly, and he has learned to run in prelims fast enough to win his heat, and then in finals he is running hard," Hopkins said. "He still has not opened up to his fastest gear like he did at KU (two weeks ago), as he has many more events to go. I expect him to run a great time at league in the finals of the 100 and 200, but he still may try to save a little for the (1,600-meter relay)."
In addition to Prioleau, Matt Ogilvie won the 110 high hurdles and set a personal record with a time of 17.45.
Also recording a first-place finish was the 400-meter relay team of Trey Kincheloe, Lane Young, Miles Brown and Prioleau. The team ran its second fastest time of the year at 45.34.
The 1,600-meter relay team also placed second with Brown, Nick Yanos, Cory McCleary and Prioleau running legs in the race. The 3,200-meter relay team of Yanos, Bryce Garver, Jon Oliva and Joe Levinson finished third.
In field events, Jesse Hiss won the shot put and Jacob Powell placed third. Powell also placed second in the discus with a personal record throw of 132-6. Hiss placed third in the discus.
"We had several others place and score points, but not quite enough to overcome Piper," Hopkins said.
The BLHS girls placed fourth, scoring 61 points. Piper won the meet with 147.5 points.
Dakkota Edmonds won the 200. She finally beat Piper standout Lenia Goff in a close race. The 400-meter relay team of Rachael Cook, Shelby Equels, Courtney Inlow and Edmonds finished second.
Victoria Smith placed third in the shot put with a personal record throw of 31-8.
In distance events, Ally Laney ran a personal record time in the 3,200 at 13:05 and finished in third place.
"We are totally focused right now on the league meet on Wednesday — which is here (at BLHS) — but even more importantly on the regional meet on May 20, which also is here," Hopkins said. "We are excited."