'

In sickness and in health'
After suffering and surviving ruptured aorta, Shawnee resident weds fianceé at hospital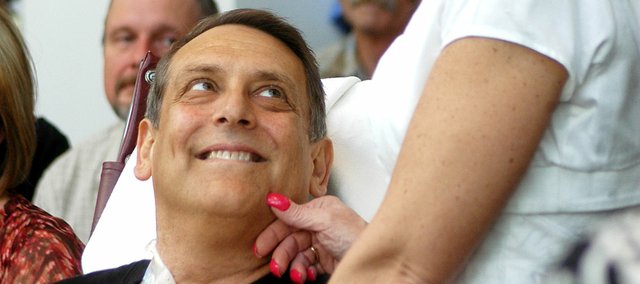 When Shawnee Mission Medical Center paged chaplain Mike Jacob, doctors knew something was seriously wrong with Shawnee resident Alan Jones' heart.
Tests soon revealed Jones, 55, had a ruptured aorta, torn from his heart to his femoral artery. And Jacob was tasked with delivering the news to Tracey Bowman, Jones' girlfriend of seven years who he planned to marry this summer.
"At that time, I began support," the chaplain said. "People don't survive this — people die."
A lot can happen in a week.
Jones survived — "miraculously," hospital staff said — a seven-hour surgery to repair his aorta on April 28. His condition was touch-and-go in the days that followed but stabilized by the weekend's close. After emerging from anesthesia early last week, Jones looked up at Bowman and told her he didn't want to wait any longer.
Delaying only long enough to get a Kansas marriage license, the couple wed Friday in the hospital's chapel.
Jacob officiated. Although, before agreeing to do so the chaplain said he questioned the couple about taking the step so soon after such a traumatic event.

"Alan told me, 'We've been thinking about getting married for the past year or so, and what better place to get married than in the place and with the people who saved my life,'" Jacob said. "How could you say no to that?"
Jones — seated in a wheelchair and hooked to a vital signs monitor — wore a black tuxedo T-shirt, slipper socks and his hospital wristband.
Bowman wore a knee-length empire-waist white dress and bolero jacket, which she found in a rush at Maurices on Shawnee Mission Parkway.
The couple, who live together in Shawnee, met through match.com.
Bowman said she loves Jones' sense of humor, and that he's the half that makes her whole.
Jones said it may sound corny but that Bowman is his best friend.
Friends and relatives said Jones and Bowman just seem to complete one another.
"They have this sense of humor that only those two get sometimes," said Bowman's daughter, Kansas University student Tiffany Johnson.
Johnson said some of her mother's relatives drove all night from Wisconsin to reach the hospital in time for the wedding. "They said they weren't going to miss this," she said.
Also attending were hospital employees, including nurse Elvie Tabije.
Tabije said she was "thrilled" for the couple, especially after seeing Jones through surgery the previous week. He still faces a potentially lengthy recovery.
"I knew that this procedure is very, very complicated," Tabije said. "And I just prayed the whole time that he would pull through."
In the opening minutes of Friday's ceremony, the chaplain told Jones that most people don't even make it to the hospital alive, much less survive surgery, with his condition. Jacob reminded the couple that their marriage should prevail in sickness and in health.
Bowman kneeled down to Jones' level while the two exchanged vows.
"We are going to have a wonderful life together," Jones said as he slipped a ring on his new wife's finger, "and it's just beginning."