Eudora winery takes home gold at international competition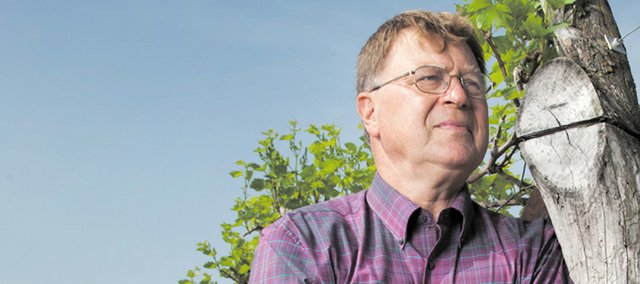 Eudora — A gold medal is venicular in any competition for the best of the best.
And bringing home Douglas County's most recent golden hardware is Eudora's BlueJacket Crossing Vineyard and Winery, which won a gold medal for its 2009 vintage of Off-Dry Vignoles at the Finger Lakes International Wine Competition on May 7.
Even better, the winery won a medal for each of the three wines it entered, taking home a silver for its 2010 Melody and a bronze for its 2008 Norton.
It's an impressive showing for a 10-year-old vineyard that was competing against winemakers of all stripes in the competition, which included wineries from all 50 states, four provinces in Canada and 18 other countries. Out of the 3,279 entries, only 261 gold medals were awarded. In fact, the only medal the winery didn't win was the double gold — which was awarded to just 76 wines — a rare award indeed.
"The medal for us isn't for the prize itself," says owner Pep Solberg-Selvan, "it's a validation that people with a lot more experience than we have see merit in our wine."
The success has been a pleasant shock to Solberg-Selvan, a native Kansan who developed an interest in wine-making while living near Napa, Calif.
"There, the physical beauty is so great and the culture, the lifestyle ... that you can have a desire to do something like that," he says, "but for us it just wasn't affordable."
But affordability happened to knock when, while back in Kansas visiting family, he came across Davenport Orchards and Winery in Eudora.
"I was consistently afraid to go in there because it's Davenport Orchards and I couldn't imagine what his wines might be like," he says with a wry smile about owner and friend Greg Shipe. "He had a dry red wine that was just excellent — as good as anything I had on the West Coast."
Somewhere between finishing that last drop of wine and doing an inventory of his family's needs, Solberg-Selvan bought acreage near Lawrence and began to set up shop. In Kansas, he says he found great soil, a great wine community but few initial resources, unlike our neighbor Missouri, which bounced back quickly after prohibition and is a regarded wine producer.
"I think we have a double-edge sword where we are. Kansas used to be a great wine producing state and then (with) prohibition it pretty much went away. But in recent years, we don't have a lot of people in the state with vineyard and enology, or wine-making skills," he says, demonstrating Kansas's relative slow start by comparing it with to our much more experienced neighbor, Missouri. "I think (there are) about 25 winery licenses in Kansas right now, Missouri has over 100. And when prohibition shut down the industry, Missouri came back immediately, where Kansas didn't do that. So, they've had 150 years of virtually continuous experience. We are gaining credibility."
But credibility doesn't have to mean being expensive — most of BlueJacket's wine are in the $10 to $12 range. Visitors to BlueJacket Crossing, 1969 N. 1250 Road, or to Lawrence's On The Rocks, 1818 Mass., can buy that gold medal Vignoles for $13. The silver medal winner goes for $14 and the bronze winner, $18. Heck, you can even get the wine that won a prestigious Jefferson Cup award in 2010 — the Seyval — for $11.
Bottle-for-bottle, BlueJacket sells 98 percent of its wine out of its on-farm tasting room because Kansas laws do not allow it to taste-test wines at liquor stores — an important caveat for a product as oft-disparaged as Kansas wine. (In 2007, Gov. Kathleen Sebelius got in hot water for a joke at a fundraiser in Washington State where she said, "You should be thankful we don't make wine in Kansas. If you ever see Kansas wine, don't drink it.") But Solberg-Selvan is OK with those rules for now because it gives him the joy of watching surprise cross his customers' faces.
"You can stand behind the counter, and do a wine tasting for your customer, and just by the look on their face, you can see whether its within their comfort zone or whether they're pleased with it or whether they share your belief that it's something special," he says. "So, when our customers have been drinking this for six or eight months, and then we win the award, they feel it's part of their success, too."
And they do think it's something special, too.
"I was amazed at the complexity of flavors that Pep was able to achieve in his wines when I first came in for a tasting," says Simone Cahoj, a Kansas University senior who says she plans to take a case or two of wine with her when she leaves town this summer. "Prior to experiencing Bluejacket wine, I'd only had wine from big companies like E&J Gallo and Yellowtail. While their wine is enjoyable, they are unable to get such the depth of flavors that Bluejacket can. This obviously comes from the fact (that) those companies are in business for quantity. Bluejacket's biggest advantage is the high quality of their wines."
Even another Northeast Kansas vintner, Rick Hird of Wild Hare Vineyard near Pleasant Grove, was eager to sing BlueJacket's praises. His favorite? The Jefferson Cup-winning Seyval — though he hasn't tried the gold-medal Vignoles yet.
"I've been to most of the Kansas wineries and many of the Missouri wineries and it is readily apparent that Bluejacket Crossing makes superior wine," he says. "Their Seyval is outstanding."