Going bald for a buddy: Friends of ailing fourth-grader make sure he's not alone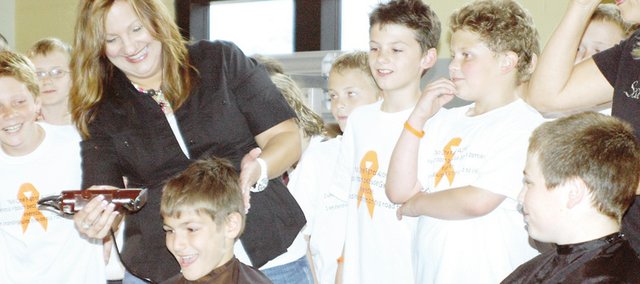 He loves superheroes. And, on days he doesn't feel too sick, he likes to read. When he can, he draws — Thor, Transformers, Spiderman. At 11 years old he has no hair.
Now, for once in 89 days, in something however small in the grand scheme of things, he's not alone.
On Friday, seven of Sacred Heart School fourth-grader Garett Barraza's classmates had their heads shaved during what started as a sign of solidarity and became a full-blown benefit.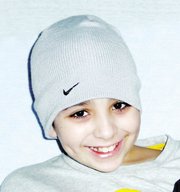 The school's gymnasium was thick with youngsters running and yelling, parents corralling and the smell of pizza hanging above it all.
"It's controlled chaos," one father would say, saying what fathers usually say this time of year when carnivals and fundraisers sweep the town.
This event wasn't conceived during a PTA meeting, but after some of Garett's classmates found out why he had been absent for so long.
When the answer was given, more questions followed.
•••
They called themselves the Bald Buddies.
After finding out Garett had cancer — Burkitt's leukemia — Matthew Schneider asked if he would lose his hair. Yes, his mother, Nicole Schneider, said, he would. So Matthew wanted to lose his, too. And then Cole Vlack did. And Destin Brown. And Conner Ranck.
Peter Merrell had his head buzzed soon after finding out, but not as short as he'd have it cut Friday when what hair had grown back was reduced to a faint stubble.
"He's had to go through so much," Peter said. "It's the least I can do for him."
Peter said he's been texting and emailing Garett, who is in his fifth round of chemotherapy.
Matthew said they've been updating Garett on what they've been learning in math and reading.
Classmates are waiting for Garett's white blood cell counts to improve so they can see him again. Peter wants to take him to see the latest "Diary of a Wimpy Kid" movie and buy him a Kansas University hat.
•••
Garett's mother, Gentry Barraza, doesn't want to sound too gloomy or depressing, but when asked what Garett does to keep himself occupied, she said a lot of the time he just doesn't feel very well.
Her son's machines beep in the background as she speaks on the phone from Children's Mercy Hospital in Kansas City, Mo., where Garett has been since last month.
She said it all began — the nights with little sleep, the twists and turns, each round of chemo tougher than the last — in January. Garett first started experiencing severe headaches, loss of appetite and weight loss. His condition worsened despite assurances of the opposite. Doctors finally diagnosed him in early February. He's been out of school since.
On April 18 — his birthday — Garett's classmates surprised him with a call on Skype.
"I'm getting through it," he said when they asked how he was feeling.
•••
Garett started losing his hair in March. His mother said it didn't fall out all at once so he first cut a mohawk and his father, George, cut his hair to match. When the rest of Garett's hair started to come out, his parents got him a lint roller to roll off the rest of it. Barraza said her son was very upset about losing his hair at first, but that he's since become totally fine with it.
"He rarely wears a hat anymore," she said.
Still, she said, that his friends buzzed their heads meant a lot to Garett. She said he anticipated videos and photos from the event.
He'll likely hear the chants of "Garett! Garett! Garett!" as school and community members watch Garett's buddies go bald.
Schneider, who was joined by fellow Sacred Heart parents Denice Weybrew and Paula Merrill, said the fundraiser raised more than $4,000 to help the Barrazas cover medical expenses. Of that, $1,300 was raised by Cole Vlack, one of the classmates who went bald.
"He knows they're always thinking about him," Gentry Barraza said.
•••
Barraza said life would never be the same for her family.
Her voice cracks from fatigue. She's tired, but she hasn't stopped being inspired.
She said not long after Garett first started having trouble eating, he told her that he gained a new perspective. He said he'll never take things like cheeseburgers or pizza for granted again.
She said the hard times, the chemo, the infections, never last long. Garett picks himself back up and goes again.
"When I think about him and all the things he's faced at 11-years-old, it's just been inspiring," Barraza said.
It's been like this since Garett got his diagnosis.
•••
"I'm on a journey, a gift from God. I have a job to inspire and give hope to others. It's a gift God knew I could handle. I've been poked, tested, touched but it's part of the road."
For Garett, the road has no clear end. In his journal, on the day he found out he was sick, he drew a stretch of pavement that starts at the bottom of the page and grows smaller, fading out of sight into his entry above.
Before that road disappears, though, we see a sign on its lefthand side: life's just ahead.