Basehor-Linwood baseball going … going … to state!
BLHS

 first team in 15 years to upend Ward in regionals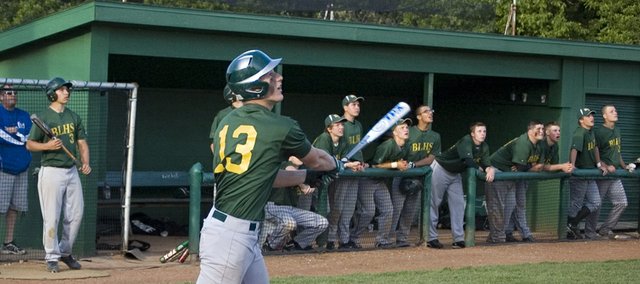 Basehor-Linwood erased years of frustration associated with losing to Bishop Ward in Class 4A regional competition with a single game Tuesday night in Ozawkie.
The proverbial tears that come with losing the final game of a season turned to a scene of joy for the Bobcats. Players rushed the field after the final out had been recorded in a 9-7 victory against defending state champion Bishop Ward in the Class 4A regional championship game.
The Bobcats doused first-year coach Brian Lohafer with a jug of water. BLHS baseball alumni soon joined the celebration on the field.
Basehor-Linwood, with a 9-11 regular-season record and losers of six straight games to end the regular season, won three games in two days and now is headed to the Class 4A state tournament May 27-28 in Salina.
"It was incredible," Lohafer said of the victory. "The kids played so well. They played together as a team, and when we got down they picked each other up.
"As far as I know, it has been since 2003 that BLHS has even been in the championship of regional, and to win it in my first year as head coach is very special. Bishop Ward has had a strong hold on this regional for 15 years, so to have anyone beat them was a very big deal. And to have us as the team to do it is even more special."
Early on, Bishop Ward was in control, but the game turned in the middle innings.
Basehor-Linwood trailed 5-2 in the fourth inning. Austin Stubbs had left the game because of pitch count limitations and Tanner Garver entered in relief. Garver hadn't pitched all season, but he did a nice job in relief.
Garver didn't allow a run in three innings and gave the Bobcats a chance.
The BLHS bats came alive in the fourth inning. The Bobcats scored seven runs and took a 9-5 lead.
"It was a big team effort as our bats came alive," Lohafer said. "We sent nine players to the plate in that inning."
Garver would go on to earn the victory. Jared Patton entered the game in relief and allowed two runs in the seventh inning on a home run by Andrew Ramirez, but the Cyclones got no closer and Patton earned the save.
Basehor-Linwood will take a 12-11 record to the state tournament, and Lohafer said he expects the Bobcats to enter as the No. 8 seed and play an early game Friday. The official bracket and game times will be released later this week.
In his first year with the team, Lohafer credited former coach David Svoboda with leaving a sound foundation for him to take over and lead. There were a lot of talented players in the program when he arrived. Lohafer, a coaching veteran with 33 years of experience in Maryville (Mo.) and who won a baseball state title there in 1981, said he has tried to instill a little more focus this season.
"I have tried to bring back more discipline and get them to focus more on the game of baseball," Lohafer said.
That focus has earned the Bobcats another week of the season and a long-awaited trip to state.