Basehor-Linwood grads embark on next stage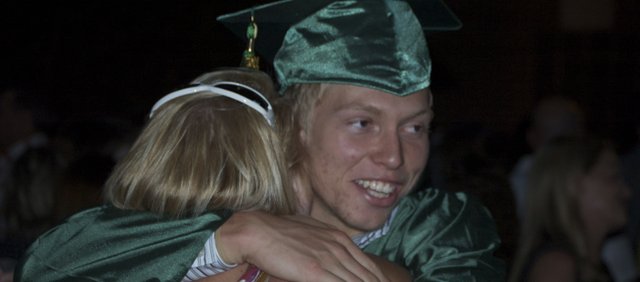 Photo Gallery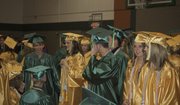 Basehor-Linwood High School 2011 commencement
Basehor-Linwood High School awarded diplomas to 150 graduates on Thursday, May 12.
The Basehor-Linwood High School class of 2011 racked up its share of accomplishments during four years at BLHS, but principal Sherry Reeves' lasting memory of the class will be an office packed with shredded paper and helium-filled balloons.
In her address at the class of 2011's commencement ceremony Thursday, May 12, Reeves recalled that scene, which she encountered the previous morning as seniors prepared to finish checking out of school. She entered her office to find paper scraps piled three feet high on the floor and balloons covering the ceiling. The culprits, a group of seniors, soon made themselves known.
"My adrenaline started pumping, and you could hear in my footsteps, 'Who was in here?'" Reeves said. "Then the group of you popped out from the hallway, and you had big smiles. You were laughing."
At that point, she said, she realized the good-natured prank was a demonstration of a lesson she was glad the students had learned — that accomplishments and honors are great, but relationships are more important.
"For me, I will always have a special place in my heart for the class of 2011," Reeves said.
The members of the BLHS class of 2011 celebrated both their relationships and their accomplishments throughout the evening Thursday.
After the BLHS orchestra played in the graduating seniors with "Pomp and Circumstance," Basehor-Linwood Superintendent David Howard gave some practical advice to the soon-to-be graduates in his brief welcome.
"A solid, firm handshake is a great way to make a first impression," Howard said. "Making eye contact when speaking with another adult is extremely important. And building positive relationships with others can provide dividends in the long run."
Reeves, before recounting the previous day's prank, listed the accomplishments of the class of 2011, including earning more than $1 million in scholarships combined and contributing to two state championships in athletics.
"Graduates, your career and educational goals are diverse and interesting," Reeves said.
Based on results of a survey, 83 percent of the 150 graduates plan to head to a college or university, Reeves said. And eight of the class of 2011 members have made a commitment to the armed forces, through enlistment or college ROTC programs — a note that drew thunderous applause, which continued as each student bound for the military was asked to stand.
Counselor CR Goodin awarded medals to the seniors finished as valedictorians, a feat that required keeping a perfect 4.0 grade-point average while navigating the Kansas Board of Regents State Scholar curriculum, and salutatorians, who completed the same curriculum with just one "B" grade during all of high school.
The valedictorians were Shelby Equels, Jessica Farris, Courtney Inlow, Emily Knapp, Emily McDowell, Macyn Sanders, Austin Stubbs and Steyr Stubenrauch. Salutatorians were Bryce Garver, Melissa Seaman and Molly Whipple.

After the BLHS mixed choir sang "Omnia Sol," seniors Emily Lynch and Macyn Sanders, the winners of a class-wide competition, together delivered a senior address, in which they remembered the four years of high school their class had shared and the faces they would miss after they had each moved on to new phases in their lives.
They said that the message they'd been told since they were freshmen — that four years of high schools goes by lightning-fast — was true. And what sparked that realization wasn't writing college-application essays, finishing their final assignments, or even putting on a cap and gown, they said.
"But you're realizing it now, as you look around at the people around you and realize you will never see half of them again," Sanders said.
They then listed off a number of their classmates whose qualities gave the class of 2011 its unique flavor.
After the senior address, Stubenrauch then returned to the stage to be awarded another honor — the $10,000 Faye Carney Gehl Scholarship. The scholarship, in memory of a 1961 Basehor High School graduate who died of cancer in 1990 and presented by her family, is awarded as a surprise at commencement each year. Gehl's daughter, JoJo Gehl Neumann, attended and announced Stubenrauch as the winner.
To conclude, Reeves told the graduates they could turn the tassels atop their caps, signifying the end of their high school careers. After looking hesitantly from side to side for a few seconds, the graduates tossed their caps in the air, to cheers and whistles from the audience.