BSE

third-graders explore community through game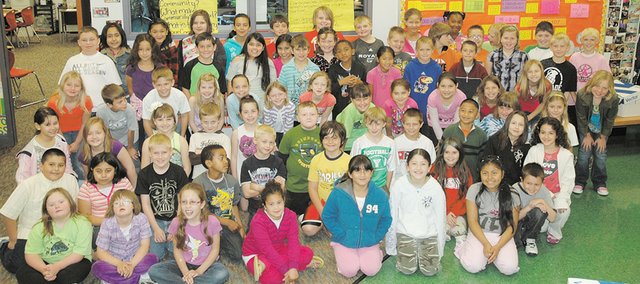 This school year has made a big impression on the third-graders of Bonner Springs Elementary School.
In a year-long project, they learned how to research and interview experts, learned the inner workings of their community, became experts in local history in their own right and created a board game as a culmination of all their newfound knowledge, which ultimately helped them give back to their community. It was all part of their Expeditionary Learning project, themed "There's no place like home" — one that the teachers say was the most successful in the four years that the school has used the Expeditionary Learning program.
Kim Mitchell, principal, said expeditions are based on standards the students need to learn throughout the year.
"What we do is we'll sit down and look through social studies and science standards, and see what we need to address from the state," Mitchell said, "and how we can best do it and make it something that is compelling to our kids but also compelling to the community, because part of expeditionary learning is tying in service to others."
Third-grade teachers Vicky Wheeler, Jim Hann and Don Cooley knew a big part of social studies standards in third grade is learning about the community, its history and what makes a strong community.
"We met over the summer and started throwing ideas out, and part of expeditionary learning is creating a quality product, so we thought maybe a game," Mitchell said.
Quality is also a character trait for the year, so they focused on doing every step of the project with a high level of quality.
"It just kind of kept evolving, and it got bigger and bigger," Wheeler said.
Third-grader Ethan Byers explained how the students talked to local history "experts" like Roger Miller and took field trips around the community. They also took a bus tour to see a lot of the places they learned about in person.
"We listened and asked lots of questions," Ethan said. "From our interviewing, we came up with 60 trivia questions about Bonner Springs."
The students then came up with a game board design largely based on a Monopoly board with some elements like Chutes and Ladders, allowing players to jump ahead or slide back on the board, third-grader Evan Chladny said. They printed out and laminated the game boards.
They decided that the three people most important to the formation of Bonner were John McDanield, Philo Clark and Henry Tiblow, so their pictures were used on the game money, third-grader Bryce Krone explained.
It was coming up with some real money that presented a small problem.
"One of our challenges is finances, because producing this was very expensive, so that's why we tried to keep it simple with paper and Kansas native rocks as tokens," Mitchell said.
Also helpful was a $200 donation from Union Bank & Trust. And a student's grandmother helped sew the bags that hold the game boards and pieces.
Third-grader Alex Thaxton explained that the class decided to sell the games for $10 each, donating some of the funds to the Kaw Valley Relay for Life, as well as the family of Michael Peterson, a first-grade student at the school who was diagnosed with leukemia and whose brother is in the third grade.
"I think what's been exciting for these kids to see is it's about giving back to your community, too," Mitchell said.
Students began selling the 100 games they had produced on April 21 and have already sold nearly 80 of them. Several of the third-graders proudly presented their game to the Bonner Springs City Council at its May 9 meeting.
All the students agreed that going on a bus tour of Bonner Springs history was one of the highlights of the project. Hadley Russell said her favorite activity was seeing Philo Clark's house.
Evan said he liked learning that the first band to have a concert at Capitol Federal Park at Sandstone, formerly Sandstone Amphitheater, was Alabama.
Gracie Hall said she couldn't narrow down a favorite activity.
"I liked all of it," she said.