Judgment call: Rapture prediction off the mark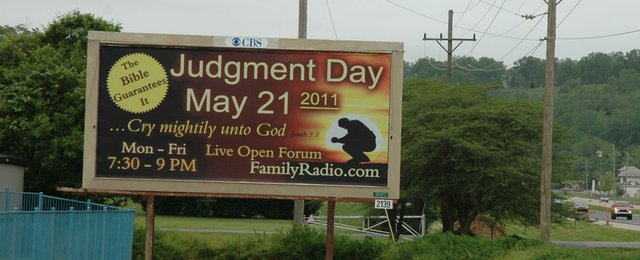 Local pastors aren't buying the ominous message heralded on a billboard on Kansas Highway 32 between Bonner Springs and Edwardsville.
The message predicts Judgment Day will be Saturday, May 21. Also known as the Rapture, Judgment Day is when Christians believe Christ's followers will be taken to heaven while nonbelievers will suffer a hellish fate beyond imagination.
"The Bible guarantees it," the billboard reads.
Ed Fuller, pastor of Bible Baptist Church in Bonner Springs, says he's got a prediction of his own.
"If that (billboard) implied that it's going to be on the 21st of May, we would be in total disagreement," Fuller said, noting that his and his church's beliefs dictate that nobody can know the exact date of Christ's return. "We know it's not going to happen that day. You can just mark it down. At least you know. It might be the 20th or the 22nd, but it's not going to happen the 21st."
The billboard's message comes via Harold Camping, founder and president of Family Radio, a Christian radio station based in California. Camping and his followers believe the event will be signaled by a disastrous earthquake felt across the globe and also that the world will be destroyed exactly five months after Judgment Day, on Oct. 21.
Since Camping's prediction, the message has spread across the country through billboards and other means, like the website ebiblefellowship.com, which gives an extensive description of Judgment Day and how it was calculated using biblical chapters and events, like the catastrophic flood during Noah's time, to determine an endpoint for Earth.

But Ben Lukens, pastor at Edwardsville Assembly Church, said given the history of Judgment Day predictions, it's hard to believe the latest one.
"I don't know how they would come to set a date, you know, like that because there's been a lot of dates set before … the Lord was supposed to come back, and he didn't," Lukens said. "So I think that's a false date because Christ said he would come back as a thief in the night."
Still, regardless of whether Christ does or doesn't return on Saturday, Lukens said he believes Judgment Day will be sooner rather than later. The evidence is all around us, he says.
"I think it will be soon because of the things going on in Israel and the Middle East, different countries setting up different governments like (what was) predicted in the last days (in the Bible) … I think it could happen anytime," Lukens said. "You gotta be ready."
One who says she would be ready for Christ's return is Edwardsville resident Courtney Wheeler, 16, who describes herself as a nondenominational Christian.
"If it did happen, I would embrace it," she said. "I would be ecstatic because I feel that I've lived a good life and that I will be accepted by my Lord, and I think it will be a good day."
Wheeler said she's seen the billboard but hasn't given it too much thought beyond this: She doesn't really believe Judgment Day will happen on May 21st, but wouldn't necessarily be surprised if it did.
"(I'm) not in preparation yet. Maybe on the drive home, but not yet. Maybe something will strike me, maybe they're right. I'm definitely open to the possibilities," Wheeler said. "With anything, when you close that door, that possibility, then you just become an ignorant person on both sides."
Lukens, however, stopped short of calling people in the business of making specific Judgment Day predictions a little kooky.
"I wouldn't call them crazy," Lukens said. "I would call them misled, because we just don't know the date or the hour. And that's the way it is."
If nothing in the supernatural realm does occur Saturday, Wheeler said she would expect the typical reactions that have occurred following past end-of-world predictions.
"I think that people who are persistent that it's going to happen are going to more than likely say that we miscalculated or it will come, and that's their prerogative," she said. "On the other hand, I believe there will be a lot of 'I told you so's' from the nonbelievers."