State berth is fruit of Vlasic's labor at Dub's Dread
Basehor-Linwood senior spent summer working, studying at Class 4A regional golf course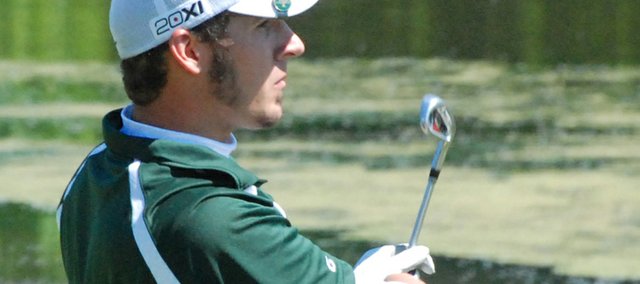 Kansas City, Kan. — When Gabe Vlasic stepped into the tee box on No. 18 at Dub's Dread Golf Course Monday at the Class 4A regional tournament, the Basehor-Linwood senior didn't hesitate.
He reached into his bag and grabbed an iron.
Two of the other three golfers approached the long fairway with their drivers and bombed shots into the trees.
Vlasic played it safe. He knew better.
Truth be told, he knew everything about this course better than most of the other golfers in the field. He'd spent his entire summer at Dub's Dread cleaning golf carts, picking up range balls, taking out the trash and any other duties required of him.
"That benefited me because I was around golf all the time," Vlasic said. "Having people help me out with everything helped me get to where I am now."
Where Vlasic finds himself now is preparing to compete at the Class 4A state tournament.
Vlasic's development as a golfer during his summer at Dub's Dread, as well has his year-round commitment to improving his game, ultimately came to a head Monday. He shot an 81 and won a one-hole tiebreaker for fifth place overall. His front-nine score of 39 was the third-best score at the turn.
"I was kind of in my zone," Vlasic admitted of his solid start.
He shrugged off a triple-bogey on No. 14 by hitting back-to-back pars, then a birdie on No. 17 that he chipped in from the fringe.
Vlasic's decision to play it safe with the iron on No. 18 paid off, too. He didn't hit the ball as far as he could with his driver, but he ended up right in the center of the fairway and set up a clean second shot. Ultimately, he pared the hole
"I think what has helped me out a lot lately is my approach has been more conservative," Vlasic said. "That has brought in a lot more lower scores."
Basehor-Linwood coach Bruce Courtney credited Vlasic's more conservative strategy with his mental maturity as a golfer.
"Golf is a very thinking game," Courtney said. "Gabe's put the mental effort into learning the game, learning the course and knowing what to do."
The state tournament berth is the first in Vlasic's four years competing for BLHS. It's a dream he didn't think would happen when he was a freshman, but he said qualifying for state was a great reward.
"I know all the work's been worth it," he said. "Starting my freshman year and not being a very good golfer, to where I am now, I never could've imagined it. It's been a great experience. I love it, and I hope it rolls on through to next week."
Vlasic will compete at state Monday at Prairie Dunes Country Club in Hutchinson. He will be the lone BLHS golfer competing at state.
Piper and Tonganoxie were the top two teams at regionals and claimed the team berths. Vlasic was one of five additional individuals to qualify for state.
BLHS finished ninth as a team. Bret Fritz shot a 95, Alec Otting shot 103, Caleb Johnson shot 113 and Neal Dickinson shot 117.
Meanwhile, Bonner Springs placed eighth as a team at state. After a strong regular season for the Braves, they struggled at regionals and didn't qualify any individuals for state.
Jonathan Price led the Braves with an 89 — four strokes away from qualifying for state. Marc McClain shot 90 and Logan Opat fired a 92. In addition, Jason VanMaren and Kaelb Kivett each shot 111 and Jake Laing shot 112.