After ousting Bishop Ward, Basehor-Linwood baseball confident heading to state
A week ago, few expected the Basehor-Linwood baseball team to be playing in the Class 4A state tournament.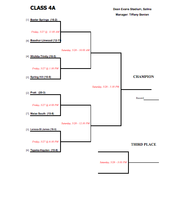 Most expected Basehor-Linwood to win a game or two in the regional playoffs and then bow out for another season, losing to powerhouse and defending state champion Bishop Ward.
After all, Bishop Ward has been a mainstay in the state tournament for years.
Basehor-Linwood had other plans, though, winning the regional tournament in Meriden as the No. 6 seed.
The Bobcats defeated Jefferson County West 7-4 in the regional opener. In the semifinal, the Bobcats defeated Tonganoxie 11-8 in nine innings. Jared Patton blasted a game-winning, three-run home run.
Basehor-Linwood met Bishop Ward in the finals, and the Cyclones led 5-2 entering the fifth inning. That's when the Bobcats put years of frustration to rest. They erupted for seven runs and surged to a 9-5 lead. Ward hit a two-run homer in the sixth to pull within 9-7, but Patton — who pitched the final two innings in relief — didn't allow another run.
Moments after the game, BLHS coach Brian Lohafer recalled Patton saying, "It took us four years, but we finally beat Bishop Ward."
A dream was realized. The Bobcats were state-bound.
It was literally a win for the ages.
This was about more than four years. Classes of BLHS baseball players have dreamed of qualifying for state in Bishop Ward's bracket, but failed to do so.
"I have had a lot of people come and congratulate me that I have never seen before," Lohafer said. "These are people who have been here a lot longer than I have and had Bishop Ward beat them. It hasn't affected me as much as the community and as much as players who have a history with older brothers and stuff like that."
The Bobcats are pleased to be headed to state, but Lohafer said they realize more work needs to be done before the eighth-seed Bobcats (12-11) play No. 1 Baxter Springs (16-2) at 11 a.m. Friday at Dean Evans Stadium in Salina.
While the team's record is just above .500, Lohafer said the schedule BLHS has played has prepared it for the tournament. He said the Bobcats have learned a lot from the losses and enjoyed the benefit of having won the Butch Foster Classic and the regional tournament.
"Here is the thing about baseball, it is streaky," he said. "It is all about confidence. Right now, our kids are confident. Winning the Bonner Springs tournament and now three in a row for regionals, they are transferring it to state and I have heard some say, "state is only three games in a row."
While confidence is good, Lohafer hasn't stopped drilling the basics of baseball to his team.
"I have to remind them that the only reason they have become successful is that they practice well," he said. "We have to continue to practice well, or we will lose that improvement. You have to go and still work; it is not going to be given to you."
Basehor-Linwood plans to leave at 11 a.m. Thursday along with the Bobcat softball team. The community can see the softball team and the baseball team off at the same time. BLHS softball players plan to watch some of the baseball.
Lohafer said the community support the last several days has been tremendous and he would like that support to follow the team to state.
Leaving town will be the beginning of the state journey, and Lohafer said regardless of what happens on the field, players will remember competing in the state tournament.
"I was telling the kids the other day that I have been in state championships and state tournaments," he said. "It is a big deal; we want to make it a big deal. We all think that we will get back each year, but sometimes it is 20 years before you go back. When the players are done and gone and out of here, 15 years from now they will still recall 2011 as a special season."