Area family turns dreams into blueberry farm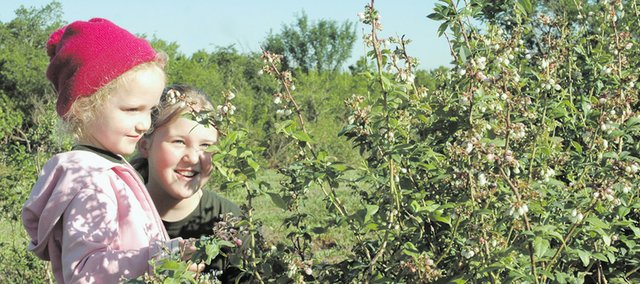 Tonya Wiley once heard there are only about five acres of blueberries growing in Kansas.
If this is true, she and her family have increased that number by 30 percent, with the potential for more.
The Wileys recently began the business of running their blueberry farm, True Vine Ranch, full-time on their 30-acre property just outside of Bonner Springs. The farm's purpose isn't to mass-produce blueberries; rather, their mission is to provide the plants themselves and share with customers across the country how to grow organic blueberry plants, especially in places like Kansas, where such a crop is not typically found because the plants need acidic soil.
"It's not native to Kansas, so people don't necessarily think about growing them here," Wiley said. "But the step-by-step method that we give homeowners who are customers of ours is very successful, and they can."
Building a dream
Farming is new to the Wiley family, who had lived on Second Street in Bonner Springs for 10 years prior to purchasing their land on Kreider Road to the southwest of the city.
Both Tonya and Doug Wiley had some experience with farm life, Tonya having grown up in Bonner Springs and Doug in the Basehor area.
"Doug has always wanted to be a farmer, he just had it in his heart," Tonya said. "And before we got married, we talked about blueberries — years ago, we talked about blueberries."
They wanted to establish some blueberry plants to sell locally and eventually open a "you-pick" patch. When they heard about the auction of the Watkins farm, originally used for crop farming, they decided to try their luck.
"So in 2003, in 102 degree weather, God gave us this farm," Tonya said. "It was really kind of miraculous, because there were a lot of people who wanted this farm."
They spent the first year remodeling and expanding the two-bedroom ranch house for their large family, which now includes six children ages 3 to 17.
After finishing their home, Doug was still working full-time as a computer programmer as Tonya homeschooled their children, so it took some time before they could begin getting their venture under way.
They knew it would take a few years to get the blueberry plants established, but they ran into a glitch right away. In 2007, they planted their first blueberries — small, mail-order plants they quickly learned wouldn't do well in Kansas.
"We had the deer mow them down completely, and I think lost almost all of them," Tonya said.
A change in plans
Fortunately, a year later the Wileys met Matt Waters, who had a blueberry farm in Smithville, Mo., and sold plants that were 1 to 3 years old. He showed them the ropes of blueberry farming, and they put in their first 100 blueberry plants.
It was actually the second time they had met Waters. In 2004, Tonya met him at a home and garden show and chatted with him about his farm.
"Then I just totally forgot about it," she said. "In 2007, after we lost all the ones we started with, we started looking and just kind of stumbled across his website."
By last fall, the Wileys had built up a patch of about 1,100 plants to pick and sell from. Waters then told them he was moving to another state and intended to sell his business.
"We kind of panicked, thinking 'Ah! We need to get more plants,' because we were ready to expand with another couple thousand plants, to hopefully put them in and eventually open up a you-pick," Tonya said.
When they went to the Waters farm in October to purchase the plants and spent the day with him, Waters offered to sell his business. With that, the Wiley farm would have a change in business plan: The main function now would be selling the plants themselves.
"We had about a week to pray about it and see if this was really what we wanted to do," Tonya said. "So on my birthday, we went to his farm and bought his business."
They decided to name their farm True Vine Ranch from Bible verse John 15:1 — "I am the true vine, and my Father is the gardener."
The next month, they started moving plants — 22,000 in November with a total of about 50 trips to Smithville. The final plants were moved this spring, for a total of 30,000.
There are 80 varieties of northern highbush blueberry plants alone, and there are three other blueberry plant-types beyond that, so the Wileys keep it simple with four northern highbush varieties: Dukes, which are early-season plants with fruit ripening June 10 to July 4; Bluecrops, a mid-season plant whose fruit ripens July 1-20; and Elliotts and Liberties, late-season plants with fruit that ripens July 20 to Aug. 20.
Life on the farm
On a recent Monday morning, as the Wiley children helped prune, de-soil and pack the plants for shipment, Doug Wiley made jokes about the repetitive nature of the packing process.
With their efficient movements and knowledge of the plants, an observer wouldn't think the family had just taken on the business.
After moving the plants to their farm, Doug was able to telecommute for work four days a week so they could spend the winter building their website, truevineranch.com, which went live in February. They began getting their own base of local customers, as well as Waters' customers. Doug soon put in his two-week's notice to run the business full-time.
The Wiley kids started taking on a new chore schedule to help on the farm. While they were still taking homeschool lessons, the two high schoolers and middle-schooler would get up early and start shipping for an hour before starting school work. The whole family will help as plants are transferred to a half-acre "nursery" yard, with an irrigation system Doug Wiley designed himself — even 3-year-old Lydia helps move the smaller plants.
Now that the focus of the farm is selling the plants, a "you-pick" patch is at least a couple of years away, Tonya said. Since the established picking patch on the farm is so small, the Wileys continue to pick it themselves and sell the berries at the Lawrence Farmer's Market.
In June, they will start selling baskets of blueberries, as well as the items they've been selling in the spring: strawberries they also grow on their land, jam from last year's berries and, of course, the plants. Tonya said they will have some more plants available for local customers they aren't offering to those who order through the website.
This fall, the Wileys hope to put in the plants that eventually will become a you-pick patch, but those plants will have to grow and mature. They'll also have to develop a plan for handling the traffic that may come from inviting people onto the farm, because they expect the blueberries to be in high demand.
"Fresh blueberries — I've had customers who say 'These are the best blueberries I've ever tasted,'" Tonya said. "I've had people say 'I don't care for blueberries,' and I get them to taste ours, and they say 'I had no idea this is what blueberries tasted like.' They're just so different than what you can buy in the store; they're so full of flavor."