Basehor
VFW

Post seeking help to keep building

Upcoming Basehor VFW events
Breakfasts:
• 7-10 a.m., first four Saturdays of each month
• $7 for adults, $4 for children under 13
• All-you-can-eat pancakes, biscuits and gravy, eggs, sausage and more
Bingo:
• 7-10 p.m. Saturday, June 11
• $5 per bingo card
Photo Gallery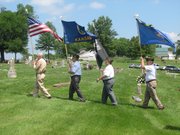 A year in the life of the Basehor VFW
The Basehor VFW Post 11499, which is in jeopardy of losing its building on 155th Street in Basehor, allows a variety of community groups to borrow its building and contributes to Basehor in other ways, as well. This gallery shows a sampling of the various events to which the VFW Post played host or contributed during the past year.
'They risked their lives to give us freedom'
Below are letters supporting the Basehor VFW Post from a few students in Michelle Ablard's fifth-grade class at Basehor Intermediate School:
Dear Basehor Sentinel,
They are very important to me. They risked their lives to give us freedom and now they are going to lose their building because they cannot pay their bills. We can help them by going to their Saturday breakfasts or by just making donations. They did everything in their will to give us freedom. Now, we need to help them. It would not be fair to not let them be together and to let them lose their building. Please let's try to help them. They helped us, so why not help them? The only reason we are able to say the Pledge of Allegiance is because of them. We have freedom. The important word in that is "free." They are the ones that do stuff for nothing. They do stuff in our community that they don't get paid for. We need to do something for them now.
Sincerely,
Samantha Dial
Dear Basehor Sentinel,
The VFW is a really important place and group. The VFW helps educate the children in today's modern society. If the VFW loses their post, they won't be able to do what they love to do, which is to tell people or the next generation about wars and battles. If they didn't do this, we would all just have textbooks and not have a person or real experience to tell us what happened. I heard this saying, "History is written by the victor." But sometimes it's not the truth, and we need to be told the truth. All those men at the VFW all paid a price and that is why we are free today and not a communist country.
Please raise money for the VFW and the next generation of people. Thank you.
Sincerely,
Mateo Rosales
What the VFW means to me: All the people there have helped us get our freedom. Now they are losing their building. The VFW needs to stay together because they help educate the community. I know. They came to my school and talked about their experiences. If they're together, they can talk about wars that they have been in.
The VFW holds little breakfasts and BINGO! If everyone could go to one a month, they would have enough money to keep their building. Then, they could go out to volunteer. They never ask for anything in return. Wow! Those are my heroes!
Katrina Sedwick
When Basehor community groups need a place to meet, the Basehor VFW Post 11499 building is the go-to spot, longtime resident and volunteer Chuck Wilderson says.
But if the VFW Post doesn't receive more financial support soon, that community hub could disappear within three months.
That's the message outgoing post commander Fred Box wants to send, he said. The post depends on community support of its various fundraisers to pay about $2,400 per month in mortgage payments and utilities on the building, Box said, and that support has fallen to dangerously low levels.
"Unless we have the population of Basehor support the VFW, we're going to end up having to close the doors," Box said.
Without an increase in support of its breakfasts and other events, or donations, the post will have to shut those doors in less than three months, Box said.
During roughly the past year, he said, fewer people have supported the post's fundraising activities.
"I don't know whether it's the economy or what it is," Box said.
The post stopped holding biweekly dinner and dance gatherings because of a lack of attendance, and organizers had to cancel a poker fundraiser scheduled for last month after only six visitors showed up.
That left the post's weekly Saturday morning breakfast as its only regular fundraising event, and the 30 or so regular attendees have not been enough to help the post pay the bills.
If the post loses its building, a former pizza parlor at 2806 N. 155th St., its 93 members may be forced to return to meeting on the sidewalk, as they did after the post's formation in 1993 before it found a home. The post moved into the current building about four years ago, after its previous building, on the other side of 155th, was condemned. With help from an anonymous $50,000 donation, the post was able to buy the building. Mortgage payments run about $1,600 a month, Box said.
If the post loses the building, Basehor will lose perhaps the best meeting place for community groups, said Wilderson, who is Basehor PRIDE president. He has lived in Basehor for 35 years and spent much of that time volunteering in the community.
"That is the place to go in Basehor as far as a central place to meet," Wilderson said.
Its central location, its kitchen, its availability free-of-charge and the hospitality of the post members all make it an ideal spot for groups ranging from 4-H clubs, Boy and Girl Scouts, PRIDE and more to hold gatherings, Wilderson said.
And, he said, that's not to mention that it provides a base for the VFW Post itself, which gives wide-ranging support to groups around Basehor.
"They support the community in so many ways," Wilderson said. "It would be a huge loss to not have that facility there."
Each year, the post contributes to local students through middle-school and high-school essay contests, Basehor-Linwood High School's Project Grad, and by members' visits to schools and classrooms to tell of their experiences, which span every conflict from World War II to this century's wars in Iraq and Afghanistan.
Members visit Michelle Ablard's fifth-grade classroom at Basehor Intermediate School for this purpose each year, and they also help her students on a trek up to Leavenworth National Cemetery each holiday season to lay wreaths on veterans' graves.
Since hearing about the post's financial struggles, Ablard said she's had classroom discussions about how to help.
"The kids were pretty upset when I told them they might be losing their building, because the veterans have meant a lot to us," Ablard said, "just because they've paid the price of freedom."
Mateo Rosales, one of Ablard's students, said they'd also discussed the importance of allowing area veterans a place where they can meet and connect with others who share the unique bond of serving in a time of war.
"They like to talk to people that have been through the same thing and get it out," Mateo said, "and when they can't do that, some of them just keep it inside forever."
Ablard said she'd asked her students to tell their parents about the post's need for help, and she hoped the community would provide some support.
"We're talking about men who have left their families for three or four years at a time, and they can't get enough funds together to save their building so they can continue to meet," Ablard said. "That's very upsetting."
Although the post members devote a good deal of time to serving the community, Box said, the post's primary purpose is to serve veterans, and part of that is just providing a place to meet.
"A veteran is a veteran, and everybody is like a long-lost friend that you had years ago," Box said.
The post's first-ever bingo night fundraiser this past weekend drew about 100 people, Box said, providing hope that the post may be able to turn things around. Members now plan to have bingo nights twice a month on Saturday nights. The next is set for June 11, from 7-10 p.m.
All community members need to do to help is support the post's fundraisers, Box said. The breakfasts take place the first four Saturdays of each month from 7-10 a.m. At a cost of $7 per adult or $4 for children under 13, visitors can have an all-you-can-eat hot breakfast.
The post will also accept donations, Box said. Anyone interested in making a donation can call the post at (913) 724-3481 or Box at (913) 208-5273.
More than anything, Box said, the post's building stands as a symbol of veterans' contributions.
"It's the guys that had the boots on the ground," Box said. "Some died, and some are still living, and the ones still living are still serving their communities and their fellow veterans."