Bonner Springs earns respect despite loss to St. James in Class 4-1A regional finals
Braves hang tough with Thunder before suffering season-ending loss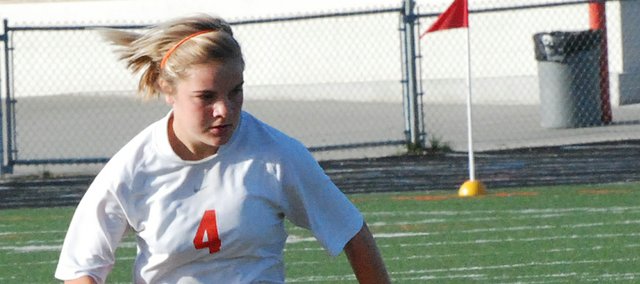 The Bonner Springs girls soccer team's season ended in a 5-0 loss to St. James Academy in the Class 4-1A regional finals Thursday at David Jaynes Stadium, but it wasn't a bittersweet finale for the Braves.
In fact, they came away from the loss with plenty to feel good about.
The biggest thing for the Braves was that they finished with an effort they could be proud of, coach Mike Moulin said.
"(Senior) Chelsea Crawford summed it up best," Moulin said. "She said 'In the past three years I've always cried at the end of the season, but I'm being honest with you, I didn't cry after this game.' She said in the past she felt like they didn't work hard enough as a team, but this game she felt like they worked hard as a team and accomplished a lot."
St. James was the aggressor from the opening kick. Rebecca Weimer and Faith Bila both put shots on goal in the first minute, and the Thunder continued to attack relentlessly.
Bonner Springs played physical defense, however, and the Braves received a stout effort from goalkeeper Yessenia Hernandez, who stepped into goal after playing forward all season.
Hernandez' athleticism paid dividends in the form of numerous acrobatic saves that slowed St. James' attack.
St. James punished BSHS for a few defensive breakdowns and scored three goals during an eight-minute span. Bethany Smith scored on a header after a shot by Nicole Mitchell, who hit the crossbar and deflected to Smith in front of the goal in the sixth minute. Mitchell scored on a scramble in the box in the 13th minute, and Smith scored again on a breakaway in the 14th minute.
After that, St. James struggled to put a ball past Hernandez despite continuing to fire away at the net.
With the speedy Hernandez in goal, Bonner Springs created fewer opportunities to answer on offense. Still, the Braves generated two golden opportunities late in the first half, but Bailey Hightower narrowly misfired both times.
St. James led 3-0 at halftime.
"This is a big task," Moulin said of playing St. James. "They're (winners of two of the last three state championships), and if we clear a couple balls down here early on and Bailey finishes one of those, we've got a 2-1 game."
After going 26 minutes without a goal to end the first half, St. James continued to fire away without success for the first 23 minutes of the second half. Time after time, the Thunder generated attacks. Time after time, Hernandez dove to the left or right to knock down a shot, or charged from the net to cut down on a shooting angle.
"They obviously put their best athlete in the back, and she was great," St. James coach Rick Enna said of Hernandez. "She anticipated well, she has great hands and she has great reflexes."
St. James finally scored again on a great setup by Smith as she pulled the defense away from the goal before hitting Emily Feldcamp with a through-ball in stride for a goal. Madelyn Buckner tacked on the final goal in the 67th minute.
Abby Flax and Taylor Whyte combined for the shutout for St. James.
Although his squad won by a comfortable margin, Enna had plenty of praise for a Bonner Springs squad that loses just four seniors — Crawford, Alexis Clark, Samee Sprenkle and Lindsey Hunt — to graduation.
"I was very impressed with their whole team," Enna said. "Their coach talked to me before the game and he said most of their girls don't play year-round, but they knew what to do with the ball, they were very well coached and they were very respectful. They played very hard and with class."
Although Bonner Springs has few year-round soccer players, Hightower being one of them, Moulin said that will change in the next two years with younger groups preparing to join the high school ranks.
Moulin said the influx of year-round soccer talent, coupled with the progress the Braves showed against St. James, leaves him feeling optimistic about the future.
"Hustle and hard work gets you a long way, and these girls had it," Moulin said. "I was very proud of them, and I'm ready for next year now."
Bonner Springs ends its season with a 7-10-1 record.
St. James (7-8-1) advanced to play Kansas City Christian (9-7-0) in the state quarterfinals Tuesday. The Thunder won 2-1 and advanced to the Final Four Friday in Maize. Kaw Valley League rival Piper also is headed to Maize.