BSKNEA

president works to build relationships
Communication top priority for Ryan Hull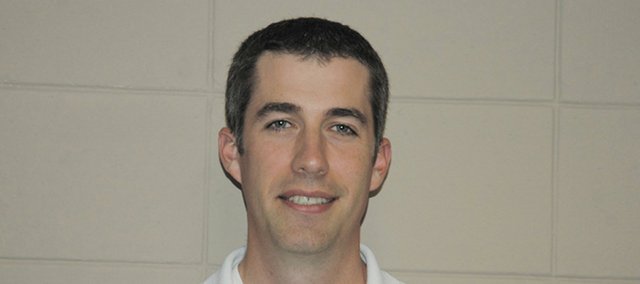 After only a little more than one semester serving as president of the Bonner Springs Kansas National Education Association, Ryan Hull can already see the position calls for a lot of work on his part.
But, like he tells his students, an opportunity is not something to be taken lightly.
"It's kind of the whole, why do people run for anything?" said Hull, who also teaches history and is the head golf coach at Bonner Springs High School. "It's like, you want to make a positive impact … I tell my students if you can make a change and you don't, then that's a wasted opportunity."
BSKNEA is the union that represents teachers in the district. Hull, who has worked in the district for six years, said he became interested in getting involved with BSKNEA shortly after leaving his former position as the head basketball coach at BSHS in 2010. He was elected in November 2010 by union voters and was unchallenged by either another nominee or former president Deb Loker, who had held the position for three years.
In addition to serving as president, Loker served as chief negotiator during teacher contract discussions with the USD 204 Board of Education.
"This is a very tough position to be in. It's not one that a lot of people want to go out and seek, so it's a tough position to fill … she was basically wearing two caps," Hull said of Loker. "She was our chief spokesperson during negotiations, as well as our acting president, and that is a lot for one person to have to deal with; that is a ton of work. She was given a ton of responsibility that was difficult to manage."
Though Hull won't be heading the negotiating committee, he says he can understand a little of what it is like to walk in Loker's shoes. Already he and the other BSKNEA officers, which include vice president Bill Turley, secretary Jennifer Schlicht and treasurer Susan Stauch, have overseen several teacher events and recognitions, the reinstatement of a college scholarship and February's contract negotiations. The contract was settled, Hull said, in two meetings — an incredibly short time as far as negotiations go.
"It is not typical in the current economic situation of schools," Hull said, noting that negotiations went so well, teachers were able to get a step and column increase negotiated back into their contracts following a two-year wage freeze. A step is an increase in pay for number of years worked in the district and a column is an increase in pay for those teachers achieving more education, such as a master's degree.

Hull said the union would continue trying to get back for teachers the two steps they lost over the wage freeze.
"Realistically in this climate, we realize those steps aren't there yet," Hull said. "But by us working and negotiating well with the school district, we're hoping in the future that (the board) will look (at offering teachers the steps they missed) in better financial times. And (board members have) promised us they will."
The two main challenges Hull sees for the BSKNEA right now are building relationships among teachers, administrators and board members, as well as doing whatever can be done to hold onto teachers in the face of deep, and seemingly unending, budget cuts.
"That's kind of the dark cloud that's over all schools right now, is the more education gets cut the more and more, basically, our kids sacrifice and basically are suffering based on the circumstances within our schools," Hull said. "It's a fear, but it's also something that we have to address now. We have to talk about, you know, what are different ways that we can go about these budget slashes without negatively impacting the classroom. The largest asset in a classroom to help the education of the kids is the teacher … so we need to try to find anything and everything, any other way to try to restructure, whether it be our scheduling, whether it be classes that we offer, whatever. (We've) got to do whatever's in our capability to hold onto teachers."
At the root of all this effort, Hull said, must be strong communication, and not just through phone calls or email. He has attended nearly every board meeting since becoming president because, as he says, "face-to-face interaction" is much more effective than any other kind of communication.
And when it comes right down to it, Hull says, the old adage rings true: United we conquer, divided we fail.
"We can't just do this separately, or else the environment will be a negative one and that's kind of what we're trying to avoid here," Hull said. "And so far, so good."