Look out Kansas: Here comes the zoom!
Sprinters have Basehor-Linwood dreaming big entering Class 4A state meet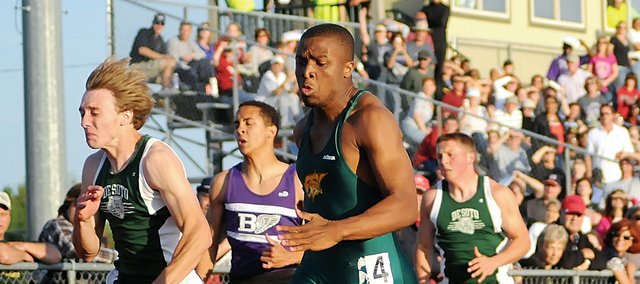 The Basehor-Linwood High School track team hopes to turn some heads Friday and Saturday, May 27-28, at the Class 4A track and field state championships in Wichita — and the Bobcats hope those heads turn quickly.
That's because BLHS has some of the fastest sprinters in the field this weekend. Daniel Prioleau is among the favorites to win a state championship in the 100- and 200-meter dashes, the BLHS boys 400-meter relay team is one of the best, and Dakkota Edmonds is a title contender in the girls 100 and 200 races.
The sprinters will lead a strong squad of Bobcats as they hope to build off of a fourth-place boys finish and ninth-place girls showing at the regional championships Friday, May 20, at BLHS.
Prioleau edged De Soto's Jordan Riffel for the regional title in the 100 in 10.75 seconds — the fastest qualifying time from any regional. Teammate Miles Brown took fourth in 11.20.
"Daniel will be the favorite, but he has risen to that challenge all year and he was even more elated with Miles' time and place," BLHS coach Steve Hopkins said. "They will hopefully be in the finals together (at state)."
Prioleau and Brown joined Lane Young and Trey Kinchloe on the 400-meter relay team, and they blazed to their second-fastest time of the season, 43.49, and finished first.
Later, Prioleau took second in the 200 and broke his own school record in the event with a time of 22.24.
Also for the BLHS boys, Ben Johnson entered seeded ninth in the high jump but tied his personal best with a clearance of 5 feet, 10 inches, and finished third.
"He is hoping to improve this week and go higher on Friday," Hopkins said.
Jacob Powell his a personal best in the shot put with a throw of 50-0 1/2 and finished second.
"He's the first Basehor-Linwood athlete to break 50 in over eight years," Hopkins said. "He competes Friday night, and if he can improve slightly he has a chance to medal.
Young broke 21 feet in the long jump for the second consecutive week and finished second at 21-1.
"If he can improve slightly, he has a chance to medal," Hopkins said.
Meanwhile, BLHS junior Edmonds had another stellar day as she finished second in both the 100 and 200. Her time of 12.25 in the 100 is the second-fastest overall qualifying time for state.
"She will be highly seeded as all four of our qualifiers from this regional are the four fastest times for the state meet," Hopkins said.
Her 200 time of 26.39 also is the second-fastest qualifying mark.
Edmonds also competed in the triple jump at regionals. She didn't qualify for state, but her sixth-place mark of 33-6 set a school record.
Basehor-Linwood's other girl state qualifier is Bailey Hooker. A junior, Hooker threw a personal best mark of 33-9 and finished third.
"She is a first-year thrower, and to reach state is outstanding and will set her up to do even better next year," Hopkins said.
Basehor-Linwood leaves today for Wichita. State competition begins at 2 p.m. Friday.
NOTABLE NON-QUALIFIERS
Not every strong performance at regionals was enough to earn a state berth. The Bobcats' regional was particularly difficult — as evidenced by the top four fastest girls 100 times in the state coming from the BLHS regional — so some Bobcats who had big days won't make the trip to Wichita.
Jesse Hiss finished fifth in the shot put despite having a strong day.
Allison Heinen hit a personal best mark of 15-6 in the long jump but did not advance to finals.
Finally, the boys 1,600-meter relay team of Brown, Prioleau, Nick Yanos and Cory McCleary knocked five seconds off of their season-best, but they missed out on a state berth by less than 1.5 seconds. BLHS finished seventh, but the Bobcats ran in the slow heat and weren't challenged.
"I would have liked our chances as we won the slow heat by more than 40 meters," Hopkins said. "However these four young men all can hold their heads high as they had a time of 3:33."