McDanield Early Childhood Center honors former aide with balloon launch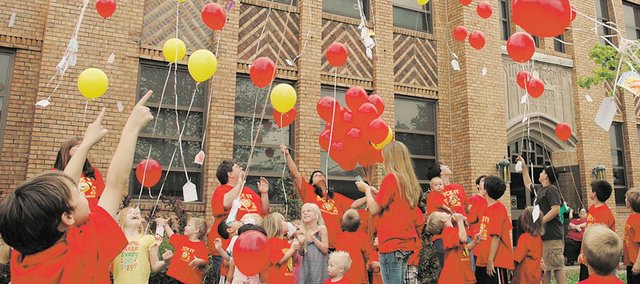 Editor's note: This is an extended version of the story printed in The Chieftain May 26, 2011.
Friday morning at McDanield Early Childhood Center, children gathered eagerly, holding tight to their balloons until it was time to release them, allowing them to carry goodbye messages for their former teacher and helper, Miss Kim, up to heaven.
Kim Wendt, who had served as a teacher's aide at the USD 204 daycare for the past 12 years, lost a short battle with cancer on April 20. The disease took hold so suddenly that there was no sense of closure for her family and friends at the school, so Friday's event served as a way for the children to say goodbye.
"It's just not the same (without her)," said Beth French, a teacher at McDanield. "It's like it just hasn't even sunk in yet; it's like she's just on vacation or something. The way it happened and as fast as it happened, it's just very surreal… as fast as it took her, there wasn't any way to say goodbye."
Parents at McDanield remember Wendt for greeting children with her smiles, hugs and her morning Diet Dr. Pepper.
"She was the perfect personality for opening the center," said Jennifer Sticherz. "Children know when people are excited to see them. Without a doubt, Kim was excited to greet each and every child in the morning; her face showed it and the children knew it."
Parent Amanda Ketterling remembered Wendt as a compassionate, saying she put to rest any fears she had about putting her children in day care — instead, it felt like "bringing your child to spend the day with their grandma."
"My oldest, Weston, 5, has said numerous times that he's sad that Miss Kim is in heaven but that he knows she's got angel wings because she always loved him, even when he was naughty," Ketterling said.
Wendt started with the school district as a cook at the high school until the district opened the day care in 1999.
After starting at the day care, Wendt became adamant that she was not a teacher. She would say "I am not a teacher; I am a good aide."
"She did not want to be a lead teacher, she didn't want the responsibility of creating lesson plans, but she wanted to come in and love the kids," said her daughter-in-law, Lynn Wendt, who also works at McDanield. "… She was like a grandma to all the kids, and a lot of them actually called her grandma."
Wendt's cancer struck fast and hard.
Lynn Wendt said on March 15, her mother had had a headache all day, and in the middle of the night, she woke up and vomited. Kim Wendt thought she had the flu.
"When you work around kids and they're sick, you don't think anything of it," Lynn Wendt said. "We went over there for my father-in-law's birthday on the 16th, and she cooked dinner, and you could tell she wasn't herself."
Her illness continued with weakness and vomiting throughout the next week, which was spring break, and while she still felt ill once classes at the day care began again, she came to work anyway. On her way home from work, she started having blurry vision, so she called the doctor.
Though the doctor thought it was a virus when Wendt went the next day, she asked for bloodwork, Lynn said.
"Her mom died of cancer, so she knew it was in the family, and the doctor said, 'Oh no, it's just a virus, you'll be fine,'" Lynn said.
Wendt's vision problems continued, and now she had dizziness, so two days later she went to the emergency room, where a CAT-scan was performed. Different diagnoses came: multiple sclerosis or a stroke. She was in the hospital for a week beginning March 24, with several tests performed. It was the fluid taken from a spinal tap that finally revealed the cancer.
"They knew that she had cancer in her kidneys, her lungs and her brain," Lynn said. "… She went back to the cancer doctor to find out, treatment-wise, what she could do, and they told her there was really no treatment because it was in so many places… so there was really nothing they could do."
Wendt was sent home with hospice care in the first week of April. She stayed there until her death April 20.
The 40 to 50 families and staff at McDanield quickly rallied to support Wendt after her diagnosis. They created red T-shirts to honor her, knowing she was a big Kansas City Chiefs fan — the T-shirts feature a football, an arrowhead with her initials in it, and a cancer ribbon featuring a Canadian flag leaf, in honor of Wendt's Canadian roots. They hope to order more shirts, which people can still order by contacting Beth French at FrenchB@usd204.net.
"It really showed how the staff and the families here can come together as a big family," Lynn said.
Wendt's death came as a shock to everyone at McDanield.
"I know that the kids even ask about her," Lynn said. "For kids to be that young and notice that she was gone… the 2 year olds ask about her."
It soon became clear that there needed to be something to create better closure; even Lynn's younger children kept asking if they could somehow call their grandma in heaven.
So when someone suggested a balloon launch, it seemed perfect. Each child decorated a tag for their balloon to send to Wendt, and the school organized a tree to plant and dedicate to both Wendt and a student's parent who had died in 2004.
In addition to the T-shirts, the McDanield staff hopes to carry on other traditions in Wendt's memory. Lynn said next year they hope to put together a Relay For Life Team.
"The balloons were the only way to even try to say goodbye," French said. "Still it wasn't enough… This place is not supposed to be here without her. So now it's like, it's not even about saying goodbye, it's about keeping her here. It's a way to keep her here."