Preview night gives residents a taste of Toastmasters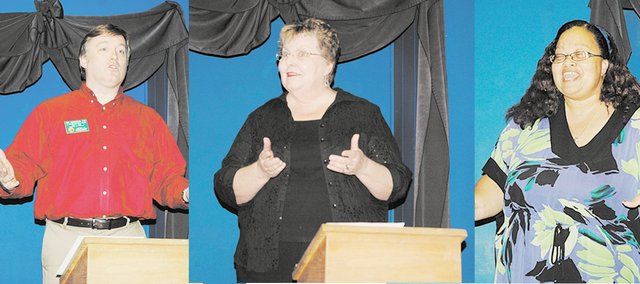 Before Rhonda Green joined Toastmasters a number of years ago, giving a speech or presentation in front of a group of people was a source of anxiety.
The Wichita woman says she has a speech impediment that makes it difficult for her to say certain words like radiography or terminology, and she can remember one "embarrassing" instance where she was asked to give a presentation in front of work colleagues that didn't produce quite the results she wanted.
But now she can tell her story in a manner that is both clear and confident — she did just that Monday during a Toastmasters demonstration meeting at the Roving Imp Theater and Coffeehouse. Confidence in expressing oneself in a public setting is something Dwain Dewey, Bonner Springs, wants to bring to Bonner Springs residents through the Toastmasters group he is starting that will meet from 5:30 p.m. to 6:30 p.m. Mondays.
"It just seemed to me to be it's time for me to give back," said Dewey, a former Overland Park Toastmaster member for 27 years , of why he wanted to start the group.
Toastmasters International is an organization geared toward helping people with communication and public speaking. Through clubs that have formed around the globe, members have the chance to practice speaking publicly in front of a small group of people. They also have their speeches evaluated in areas like organization, time — each speaker must stick to a set time limit — and how many times they use words like "um," "OK" or "so," which can detract from the speech.
Members go through a series of topics to speak about that range from the first speech they will give about themselves — dubbed "The Icebreaker" — to topics like speech organization, getting to the point of the speech and inspiring the audience. Members also have the chance to take ownership of their learning through taking on roles at each meeting like the toastmaster, who leads the meeting and coordinates the meeting agenda; the timer, who makes sure speakers stay within their time limit through the use of green, yellow and red signal cards; and the table topics master, who chooses topics for members to discuss publicly during 1-2 minute impromptu speeches.
The demonstration meeting Monday broke it all down for the few prospective members that showed up, running just like an actual meeting would with a speech and table topics portion, as well as a meeting evaluation where speeches were evaluated. Green was the night's featured speaker. She is now Lt. Governor Marketing with Toastmasters International District 22, which covers all of Kansas and western Missouri.
"Why Toastmasters?" she asked during her speech. "Because in Toastmasters you get the opportunity to actually stand in front of a group of people and give an actual presentation. I've been to the seminars. I heard a lot. I took down a couple of notes. But I didn't get that chance to get up and actually practice it myself. Anytime that you're in a workshop where you can practice things and get immediate feedback, that means that's giving you an opportunity to correct yourself, to learn how to be better."
Green said Toastmasters can also teach members how to use visual aids, like a PowerPoint, effectively in their presentations.
"It helps anytime that you have an idea that you want to express … if I have an idea that I want to express, I can put it into a presentation and the audience … can identify with it," Dewey said. "It'll help with every aspect of your life."
Rob Christeson, lieutenant governor of education and training with District 22, said being a member of Toastmasters had helped him improve his interviewing skills.
"Yes, people get jobs without Toastmasters," he said, "but every bit helps."
Toastmasters will have its first meeting in Bonner Springs at 5:30 p.m. Monday, June 6, and then meetings will continue every Monday, excluding holidays. Anyone is welcome to attend their first meeting for free, and if they decide to become a member, an initial fee of $53.25, which covers six months membership, is required. Every six months after that, the fee will be $27.
For more information, contact Dewey at (913) 422-7775.