Vlasic closes out
BLHS

 career at Class 4A state tournament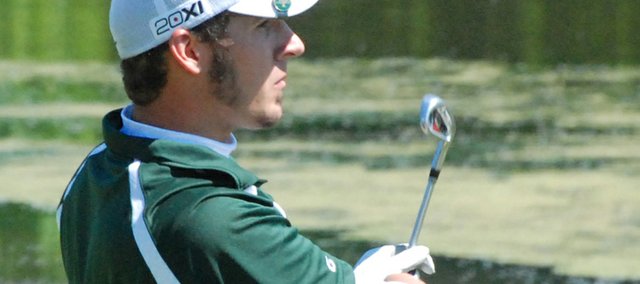 Gabe Vlasic, who describes himself as a self-made golfer after spending a summer working on the golf course to prepare for his senior season, realized a goal on Monday.
He played in the Class 4A state tournament at Prairie Dunes Country Club in Hutchinson.
The hard work paid off as Vlasic took his place among the state's best golfers and did it on a course that has played host to major professional golf tournaments like the U.S. Senior Open.
"It is a very difficult course, but a wonderful course and a great setting," coach Bruce Courtney said. "It was a super tournament, and everything about it was a great experience."
While Vlasic achieved a goal of competing at state and finished with a round of 94, he hoped to play better.
After shooting an 81 in last week's Class 4A regional, and then an 82 in a practice round Saturday at Prairie Dunes, Vlasic was ready to experience the state tournament.
"He had kind of an up and down round," Courtney said. "The course is not forgiving at all. You make a mistake, and it will make you pay for it. He fought through it very well. He settled down toward the end."
Vlasic teed off at 9 a.m. On the first hole, he hit his initial drive into the tall grass. He fought his way out of the grass and then overshot the green before ultimately knocking down a putt.
After struggling with the first hole, Vlasic performed well on the next few holes.
Then he hit another rough patch.
That was the type of day it was for him. Each time that he thought he was in a rhythm, an errant shot would take him out of it, Courtney said.
"He didn't finish where he wanted to, but he realizes he had a great season and really did well to have this experience," Courtney said. "After he said, 'I am proud that I made it here, and it was one of my goals.' He had a pretty good round; he just had some unlucky breaks and things did not roll his way."
Despite not medaling at state, Vlasic had a memorable final tournament of his high school career, Courtney said.
"Ultimately that is what he'll walk away with. He got there, played very well and realized it was a hard course for just about anybody playing the course," Courtney said.
Vlasic, a senior, is considering playing golf in college, possibly at Kansas City Kansas Community College.