WyCo loses
BBQ

festival, but organizers say 'window still open'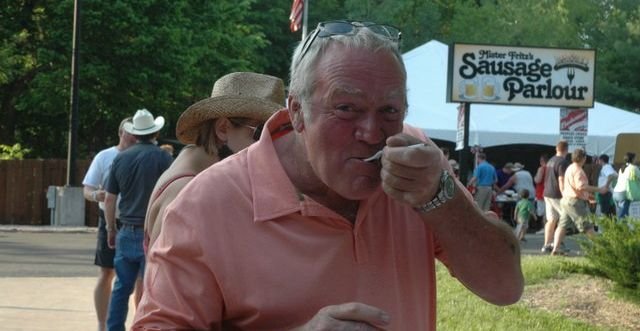 Now that May is coming to a close, Wyandotte County barbecue lovers may be feeling like something is missing.
For those who haven't noticed, the normal time slot for the Great American Barbecue Festival — usually held right around Memorial Day weekend at Capitol Federal Park at Sandstone — has come and gone with nary the lift of a grill or the waft of smoke rolling off a piece of barbecue-slathered meat.
This is because the annual barbecue festival was moved this year to the Overland Park International Trade Center in, well, Overland Park. Held May 20-21, this is the first year in seven the festival has been held outside of Wyandotte County. It was held at the Woodlands racetrack for several years prior to moving to Sandstone in 2009.
Tracy Satterfield, executive director of the Great American Barbecue Festival, said the reason it was moved was because the trade center offered to donate its space for free. She said the offer came at the beginning of this year and, with such a large festival to organize by May's end, she said it came down to having to make a decision quickly.

"(Trade center officials) had mentioned that they would be interested to have us out there and, you know, we had asked if there was any possibility for Sandstone to work on the price … and they were not in a position to do that, and we had to kind of make a quick decision," Satterfield said. "Time was a'running out."
Even more than time running out, though, was the issue of money, Satterfield said. The economy hasn't made it easy for nonprofits like hers to stay afloat.
"So we're saving everything that we can, from postage stamps to rental equipment to the rental facility," she said.
Satterfield said the festival went well and drew about the same amount of attendees as it has in the past. But despite being the more expensive option, Satterfield found there is at least one quality in which Sandstone eclipses the International Trade Center: space.
"(The trade center is) actually a smaller space, so we did have fewer teams, which was a little disappointing," Satterfield said.
As to whether the festival will return to Sandstone next year, Satterfield said she can't be sure at this point. Though the festival has been over for several days, she says she is still "up to my eyeballs" in post-festival work, which includes mailing out checks to all the competition winners, and hasn't given next year's location too much thought. The door is always open though, she says … or the window.

"I haven't received any word from Sandstone whether they would be interested or not … but I don't throw anything out the window," she said. "I'm open to everything, so who knows what could happen?"
The most important thing is to keep going, Satterfield said. Each year the festival donates a portion of proceeds to several charities in the Kansas City metro area, including the Fox 4 Love Fund for Children, St. Mary's Food Kitchen and Guadalupe Centers, Inc. She said she wants the festival to continue to be a contributing part of the community, and for that to happen, you kind of have to do what you have to do.
"Some of the teams were frustrated that we moved from Wyandotte County … you just have to do what you can do to keep yourself alive at this point," she said.
The Chieftain has not yet been able to reach Sandstone officials for comment on this story.